Kikukawa Policies
homeAbout KikukawaKikukawa Policies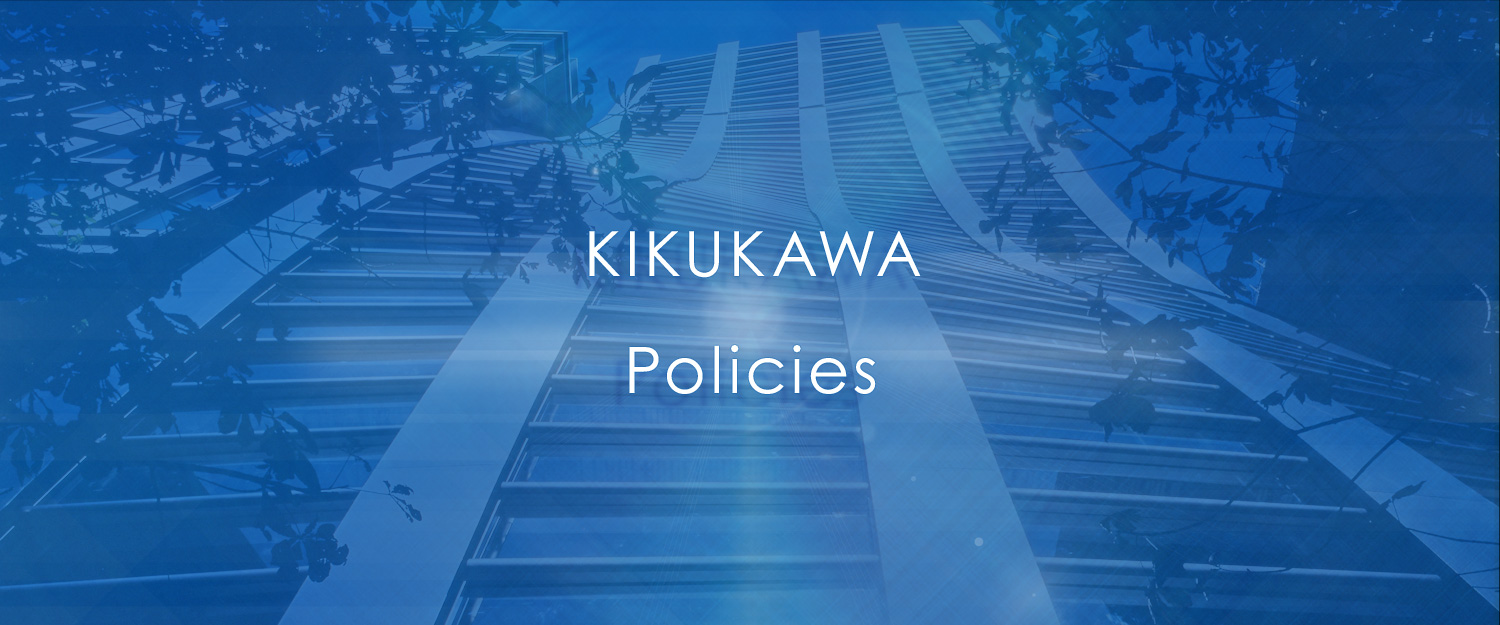 One of the differentiating qualities about KIKUKAWA is its' ability to provide a comprehensive solution, from fabrication drawings to installation.
Even with complex designs, our employees work together to offer a realistic solution.

Having a well-defined goal allows all employees to work in concert to continuously improve the balance of Quality, Cost, Delivery, Safety and Morale (QCDSM).

We discuss the production and installation process when considering our designs to ensure high quality and productivity with a shorter lead-time. In doing so, we are able to achieve customer satisfaction and be highly regarded by our customers.

A system of internal support is readily available; from the reference drawings to high quality mock-ups that support our products.

We are very aware of past achievements in maintaining product reliability and quality. We continue to mobilize the full potential of the KIKUKAWA group in order to continuously respond to the trust of our customers.

Our drawings take into consideration the ideas from the manufacturing and construction divisions in the course of DR to prepare designs that maximize manufacturing/installation efficiency.


Our abundant experience and knowhow devoted to metal work has created one-of-a-kind products in the world,
and our passion for quality based on our never-say-no approach has been highly recognized within Japan and overseas.

Our approach is to believe that everything is possible when responding to a wide variety of requests, from manufacturing to installation. This has enabled us to achieve high rates of customer satisfaction in quality, cost and delivery (QCD).

There are no divisionary boundaries to create high quality products within our company. Our work environment enables even young managers (average age under 30) to make significant contributions to this process.

Our dedication to customer care extends to every detail of our customers' requests. Our sales team's business practice is to consider the best product and solution for our customers.

One of our company's best qualities is that we do everything possible to accommodate customer requests and take every request seriously and do our best to implement all or as much of the request as possible. We are persistent all throughout the design and construction process doing research when needed as well as providing sample mock-ups all in our serious commitment to meet customer requests.

We understand the seriousness of our customers' requests and are equally serious in trying to fulfill all their requests. Our motivation lies with our company spirit that welcomes every challenge.


KIKUKAWA utilizes traditional workmanship and advanced technology to respond to various requests from architects, designers and general contractors. The unique combination of craftsmanship and advanced machinery or tools allows us to attain new levels of achievement.

The basics of manufacturing lies in the planning process, we utilize the management cycle, PDCA, to hone our craftsmanship.

We hold machineries that are not readily available such as the large lasers, turret punch press, eight meter bending machine, fiber laser welding machine or the friction stir welding machine (FSW). In particular, our exemplary bending technology allows us to actualize bent panels that are technologically impractical for other vendors.

One of our strengths is our factory; various mock-ups and the actual manufacturing process are readily available to be experienced.

There is a generation shift in our customers and sales' team – through this change, the inheritance of our loyal customers and the exploration of new customer base is required. This drives the unification of our divisions and company.

Individual skills and knowledge are accumulated into a database to further our know-how.


KIKUKAWA's policy is to continuously take on challenges to make the impossible possible. Our motto is more than responding to our customers' request but to add value for our customers.

Upon understanding the needs of our customers, we plan and act in a swift manner. Our approach is to set a goal and to work enthusiastically to achieve them.

To act in a bright, rightful manner leads to motivation for tomorrow. The passion to take on any challenges and the will to improve nourishes an eye for tomorrow.

To respond in a cordial manner to our customers. The enthusiasm to take on any challenge.

The will to improve is one that comes from within, rather than one that is given by others.

The professionalism of a metal-worker, to respond in a cordial manner, the supply of safe products builds the bridge for tomorrow.