March 31, 2020
Bronze alloys are often chosen in architecture to create chic or high-end space. However, bronze may be replaced with stainless steel due to material availability and procurement. In such cases, sputtered or electro-chemically coloured stainless steel may be considered – however, these finishes have limitations in post-coloured metalworking.
The following decorative partitions combine stainless steel round pipes and bronze colour clear coating to overcome the limitations listed above.
The welded joints are finished carefully into a mirror-polish, then finished with a coloured clear coating that maintains the metallic and a bronze-like surface. This fine-detailed piece of artwork adorns the high-end grill and restaurant in Marunouchi, Tokyo.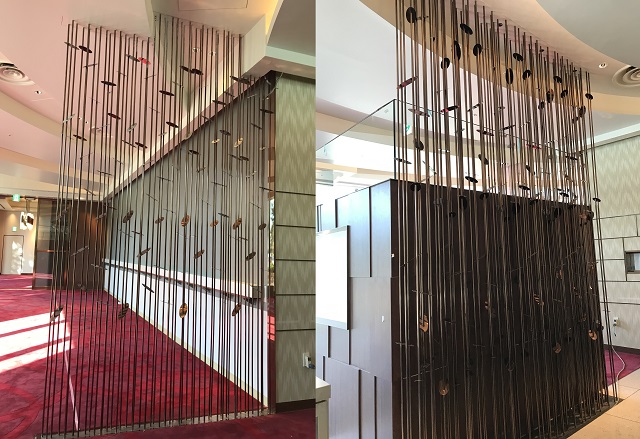 These decorative partitions imitate musical notes and staff notation – the staff lines are 13mm thick round pipes, 3.6m high from the floor to ceiling. The left partition is 2090mm wide of 125mm depth covered by 3 rows of randomly placed round pipes. The right partition is 2560mm in width and has 5 rows or round pipes covering 240mm depth.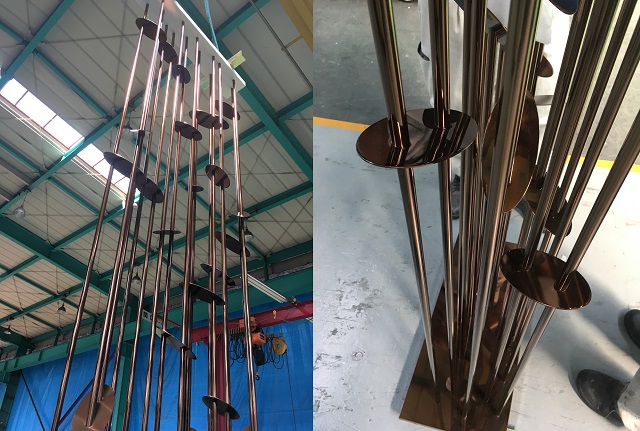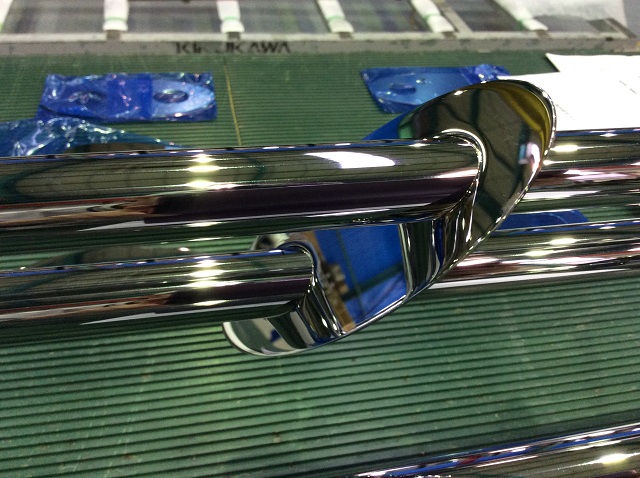 Depending on the placement and the installation angle, there are 6 types of oval plates. All are welded; the top half from the ceiling are welded from above, and the other half are welded from the bottom to minimize the visibility of the welding marks. These pipes are framed into a unit; the top frame is coloured white to assimilate the ceiling, and the bottom finished with mirror-polish and bronze colour clear coating.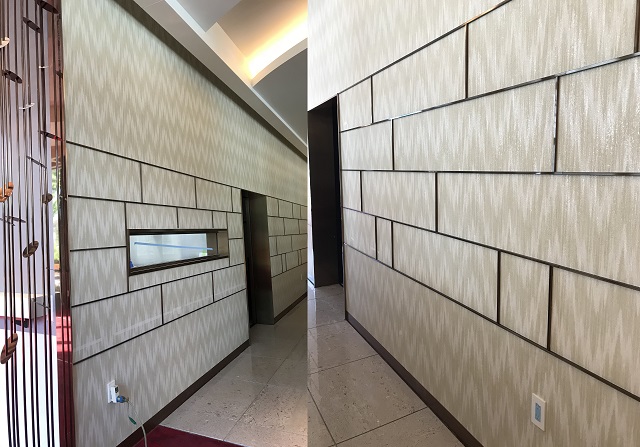 Pictured above is another decorative ornament inspired by musical staff, placed in a different area of the same establishment. The 9mm square pipes are hairline finished and bronze colour clear coated, similar to the other partitions.
The bronze colour clear coating of this project was finished within Kikukawa's factory to ensure the colour and quality of the product. Coloured clear coating is suitable for interior projects requiring metallic or high-end space.
Please consult us on the availability and specifications.
*Coloured clear coating is a finish for interior projects. Please consult us for use in exterior projects to ensure the suitability of the specifications.