January 24, 2023
In recent years, KIKUKAWA has received an increasing number of enquiries about renovation work using metal panels. At KIKUKAWA, we can update buildings with a unique look with our special coating technology.
The below introduces a renovation project on the entrance to an office building in Morioka City, Iwate Prefecture. KIKUKAWA fabricated inner and outer panels, finished in a paint that recreates the look of a casted surface.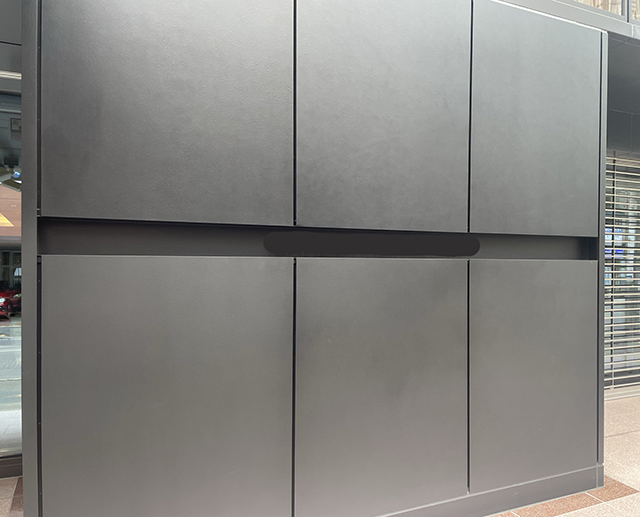 The front of the exterior wall panels features a sign panel along the centre, sandwiched by six cut panels of around 1000mm (W) x 1300mm (H), screwed together and featuring 15mm-width joints. As a result, the entrance has been given an entirely different look, with the brown stone tone being changed into in chic black wall panels.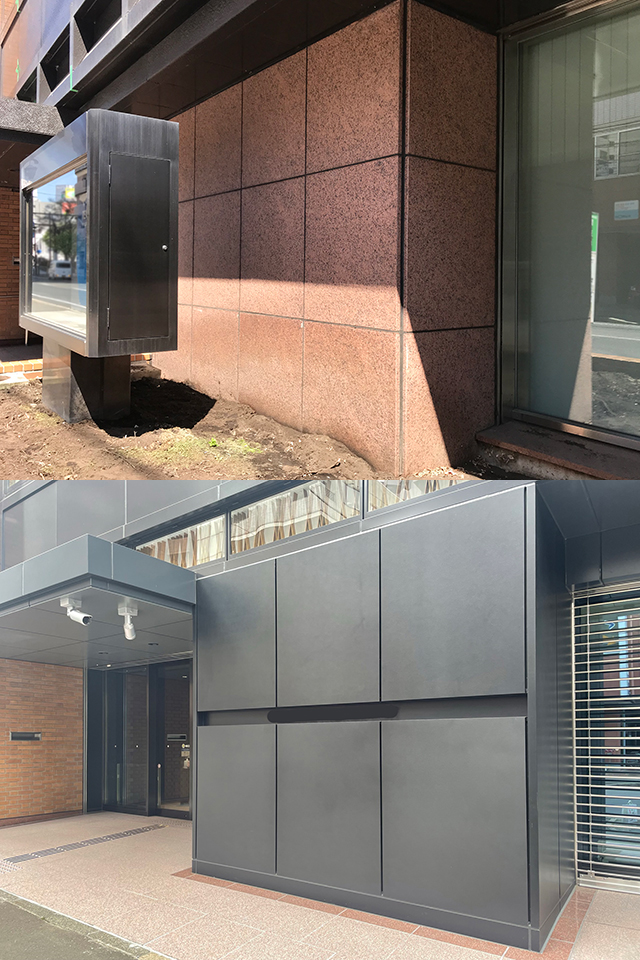 The panels are finished in Casted Paint (CM-C1), one of KIKUKAWA's special custom paint finishes. The paint recreates the rough texture of cast surfaces by using matte black urethane paint. The resulting matte finish imparts a sense of calmness.
In this project, the existing exterior panels from the second floor upwards were designed to evoke Nambu tekki, a local ironware handicraft tradition. The building owner was looking for a finish close to that of the existing exterior panels, which is how our Casted Paint came to be selected.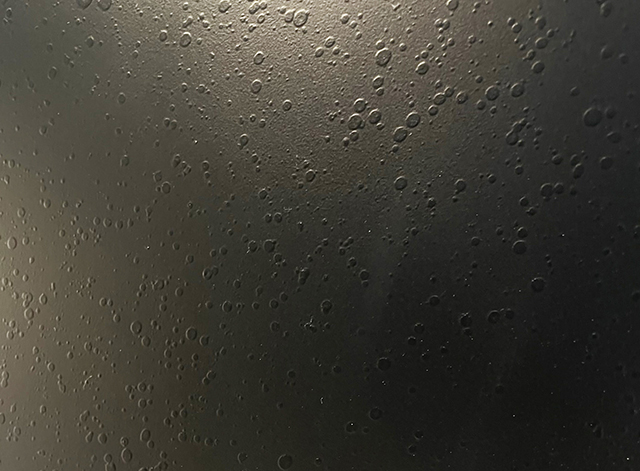 In our Finish Sample Books, Casted Paint is featured as part of our line-up of finishes for steel. However, it can also be applied to other metal materials. For this project, while the interior panels were fabricated in steel, we suggested that the exterior panels be fabricated in aluminium (3mm-thick) to reduce the risk of rust.
Click here to see our finishes line-up including special paints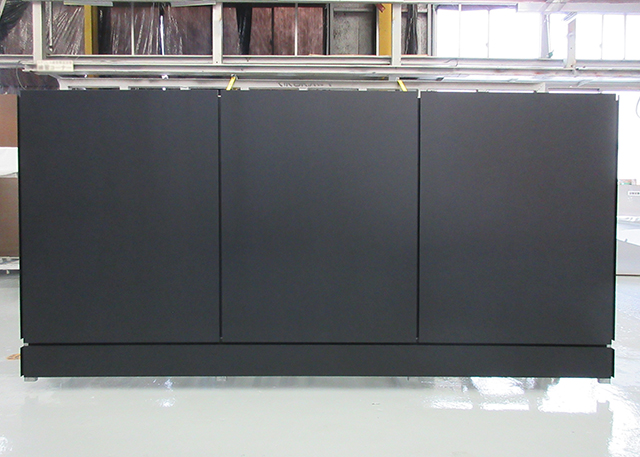 For the interior, the wall panels installed in the vestibule and the entrance hall were also finished in the same Casted Paint. KIKUKAWA supplied fourteen cut panels, fabricated in 3.2mm-thick steel, ranging in size from 320mm – 1,070mm (W) x 2,530mm (H).
In addition, the 60mm-wide skirting board running along the bottom of the internal panels is finished in HL (hairline) + Coloured Stainless Steel (chemical colouring) in black.
As the designer was looking for very sharply bent corners, all corners were finished by V-cut bending to achieve their design intent.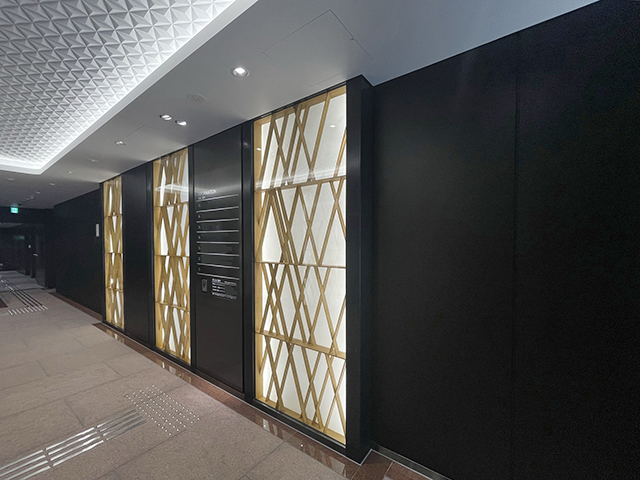 Renovating your building using metal panels, as seen in this project, can increase the value of your building. If you are considering renovation, please consult with us so we can propose the ideal materials and finishes for your project.