June 29, 2022
In this edition we introduce an example of how decorative metal ceiling panels have been used. We fabricated two types of ceiling panel to feature in the entrance to the ESR Yokohama Sachiura Distribution Center 1, located on the coast of Yokohama City in Kanagawa Prefecture, Japan.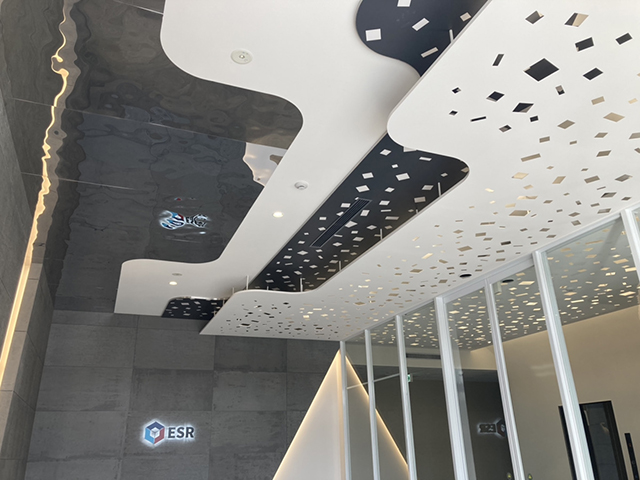 The ceiling panels to the left on entering the facility are Minamo panels®, designed to resemble rippling water. The 1.5mm-thick cut panels, in mirror-polished stainless steel, have been embossed to create irregular patterns across the surface. By gently reflecting the surrounding scenery, these Minato panels® creates a dreamy effect.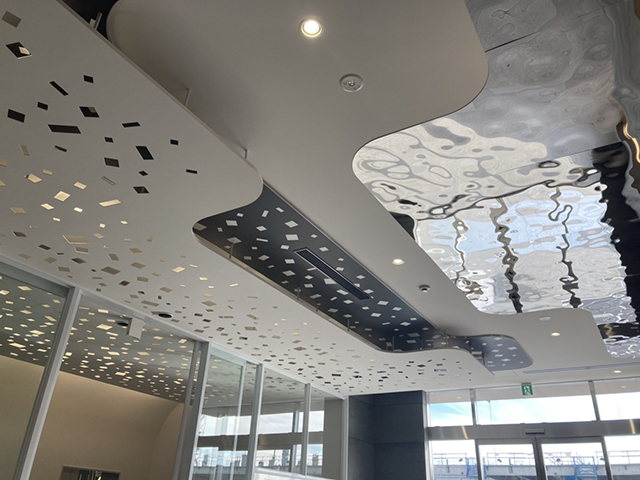 Click here to learn more about the Minamo panel® range
Installed over the automatic doors are decorative perforated panels featuring punched quadrilaterals, randomly sized and shaped. The perforations were laser cut from 3mm-thick aluminium cut panels to achieve a cut-out effect. In total, we fabricated 41 panels, sized as standard at 1000mm², each of which had a different randomised pattern.
Lighting installed inside the clipped ceiling, suspended 250mm below the structural ceiling, creates an effect resembling dappled sunlight through trees. The contractor screwed the panels together to achieve seamless joints, then putty filled and painted on site to ensure no joints or screws were visible.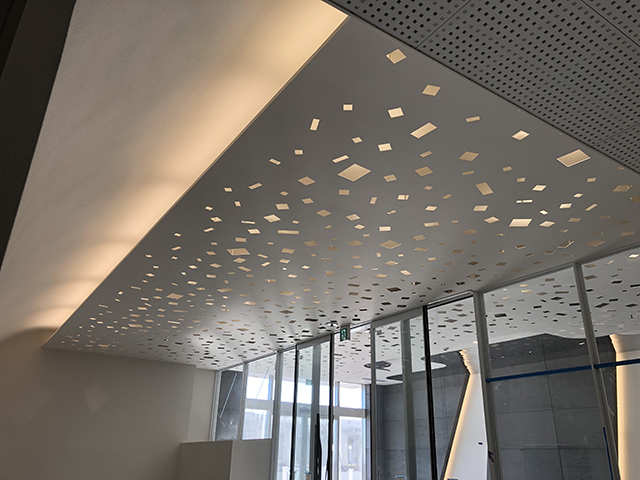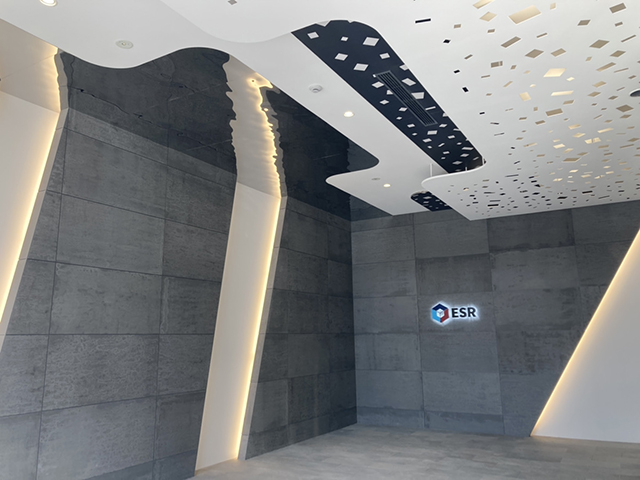 KIKUKAWA is an expert in handling different materials, finishes, and processes. We are happy to discuss projects requiring the use of multiple kinds of metal. As a bespoke metal fabricator, we are experts in high-mix low-volume productions. Please get in touch with us if you are looking for innovative solutions relating to metalwork.