July 28, 2021
Of all building materials, metal offers the widest range of design possibilities, since it can be processed most freely and combined with many other materials and finishes. At KIKUKAWA, we will devise the best way to turn ideas into reality by discussing with the designer and recommending the optimal solution to make possible artistic designs hard to achieve with sheet metal. This could mean casting for larger-lot productions or dieless processes such as machining for small lot productions.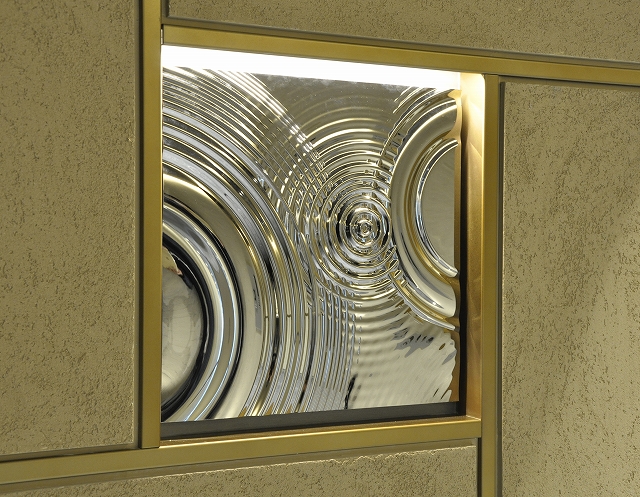 To illustrate this, let's take a look at a metal relief panel installed in an apartment building in Tokyo. The panel is installed directly opposite the communal entrance.
The panel has been produced by machining a 520mm by 520mm, 18mm-thick brass plate, then finishing it in glossy chrome plating.
The design evokes a section of water, onto which drops have fallen, creating multiple overlapping circles of ripples. Together, these four concentric circles create a raised geometric pattern.
The indirect light at the raised parts of the relief causes the transitional effects of the chrome plating's sparkle to be further enhanced by the light and shade of the surroundings.
As this project was for a one-off piece, KIKUKAWA fabricated the plate using an NC processing machine. We converted the design data received from the designer into processing data, and selected brass as the material to be machined, in consideration of its optimal balance of hardness and softness.
Advances in 3D data mean that the designs we can achieve with metal are constantly evolving and diversifying, to include 3D designs and free-flowing curves. KIKUKAWA understands the increasing needs among our clients to use these designs as accents and highlights in small quantities in their projects.
Just as an extensive variety of designs can be achieved with metal, so too is there a variety of ways to achieve them. Please consult with KIKUKAWA, as we will be able to find the optimal solution for your design, regardless of lot size.