April 14, 2022
Now available: Luminous aluminium alloy enhanced with gold and special polish finishes
KIKUKAWA, a bespoke metal architect for interiors and exteriors, has developed an additional line-up for our Alumiére® range. This latest line-up features new colours and special polishing effects. Sample boards of these new finishes became available on April 1, 2022.
For the initial Alumiére® line-up, we developed a selection of finish options which made the most of aluminium's inherent luminosity, with each finish offering a different level and texture of shine. With this second drop, we are adding six new finishes to the range, including gold, which has recently become increasingly popular, and polish effects which emit a seemingly three-dimensional lustre.
KIKUKAWA has developed these new finishes using the know-how on luminous aluminium alloys we were able to cultivate during our work on the exterior panels for the Sumida Hokusai Museum in Tokyo. Alumiére® finishes are designed to draw out a variety of additional qualities, including luxuriance, softness, and warmth, to enhance the inherent elegance of aluminium. The finishes are intended to be used to complement a wide range of styles across diverse internal and interior settings.
■Additional Line-up of Alumiére®
① Champagne Gold: A finish with a subtle gloss
② Light Gold: A softly muted golden finish
③ Vivid Gold: A bright golden finish
④ Feather Vibration: A finish with grind marks overlapping like furled feathers
⑤ Scratch Cross HL (Scratch Cross HL): A finish with delicate, diagonally intersecting HL (hairline) grind marks
⑥ Wave HL (Wave HL): A finish with gently curving HL grind marks, inspired by the drape of curtains.
*Please see below for the details of the first release of Alumiére® interior finishes.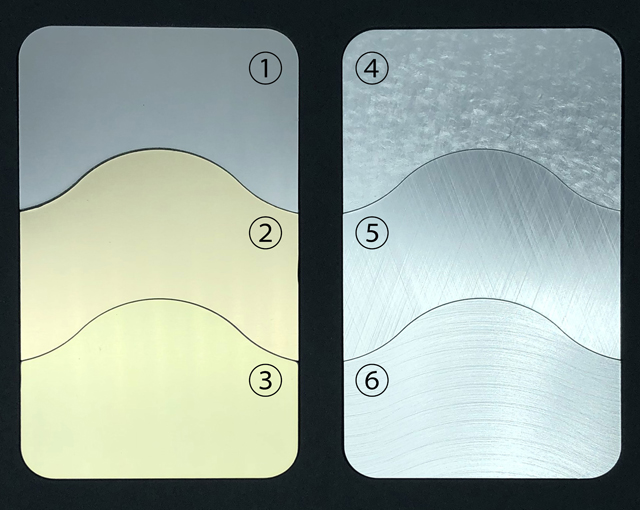 ■Maximum Workable Sizes for Alumiére®
・Curved panel, 2.0mm thickness: Max. W1150 mm x H4000 mm
・Cut panel, 3.0mm thickness: Max. W1200 mm x H4000 mm
*Alumiére® is a registered trademark of KIKUKAWA.
■Alumiére®: Overview and Features
Each Alumiére® finish is achieved by adding shine and texture to a luminous aluminium alloy base. These finishes make the most of the lightweight feel of aluminium while also drawing out its lustre and brilliance to bring a range of expressions to interior spaces.
◆ A line-up of finishes that draw out the lustre and brilliance of aluminium to create various expressive impressions
◆ Alumiére® finishes boast a brilliant metallic lustre, previously achieved with stainless steel, with lightweight aluminium at just 1/3 of the weight
◆ Clients can create their ideal combinations by freely selecting from the available shine and texture options
■Origin of the Alumiére® Name
KIKUKAWA coined the brand name Alumiére® as a portmanteau of "aluminium" and the French word "lumiére", meaning "light". The name is intended to evoke an impression of aluminium reflecting light and shining brilliantly, as well as our hope that we can become one of the lights of hope that illuminate the world.

■ First Sample Line-up
Our first line-up of Alumiére® finishes was prompted by requests from our clients, who wanted to recreate the brilliant metallic shine of stainless steel with aluminium. In response, we prepared sample boards of six finishes, each with its own unique combination of shine and texture.
① High Bright Silver: Our glossiest finish
② Bright Silver: A high-gloss finish
③ High Bright Hammertone: A finish in which the textural irregularities of the hammered finish create shadow and a three-dimensional effect
④ High Bright PHL (Vibration): A sparkling finish achieved with vibration (delicate, randomly placed grind marks).
⑤ High Bright Silky Blast: A bespoke blasting finish exclusive to KIKUKAWA
(※general alumite (anodized) finish)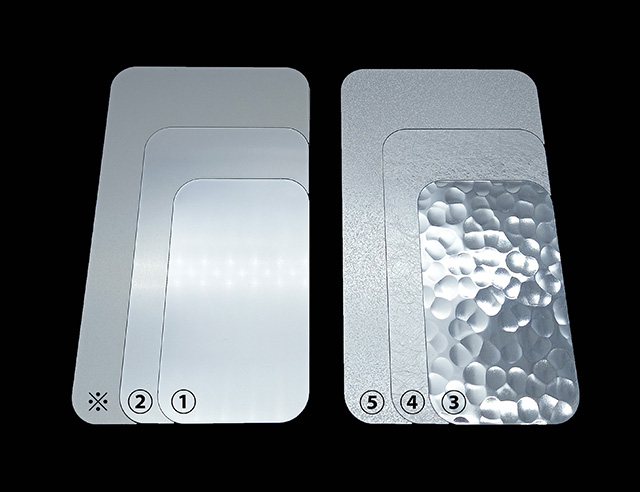 ■Exterior Specifications Line-Up
Our first line-up of Alumiére® finish samples, intended for interior settings, prompted client enquiries about the possibility of using Alumiére® finishes in exterior settings too. In response, we were able to develop an additional line-up of finishes which, with the addition of a composite coating to the first six interior finishes, meet the performance requirements for exterior specifications. These finishes are ideal for use on exterior wall panels, where they will softly reflect the scenery of the surrounding city.