April 14, 2020
Kikukawa has the knowledge and experience to reconstruct or provide services for relocation projects with strict or challenging conditions.
The following monuments, Flying into the Rainbow (also known as the Blue Wings) and Coloured by the Rainbow (also known as the Rainbow Wings) were relocated from Haneda Airport to the Tamagawa Academy. The monuments were designed by the artist Naoya Sakagami and produced by Arts Associates Yatagarasu.
Prior to the relocation, the two monuments were placed within the south and north meeting area of Haneda International Airport Terminal One, Arrivals lobby. The monuments have watched over various travelers for 25 years (1993 – 2018) until the relocation to Sakagami's alma mater Tamagawa Academy which was decided upon the terminals' renovation.
The Blue Wings were placed within the concert hall of Tamagawa, while the Rainbow Wings were placed within the atrium of Stream Hall 2019, a new facility built for global education.
The two monuments are coated with a stainless finish that is unique to Sakagami and composed of 6 lines of carefully polished crystal prisms, and 11 spectrum creating gratings which included products that cannot be reproduced today. Therefore, no mistakes could be made within this relocation project.
Based on experience and partnerships from previous projects, Kikukawa was entrusted with this mission from dismantling in Haneda to installation.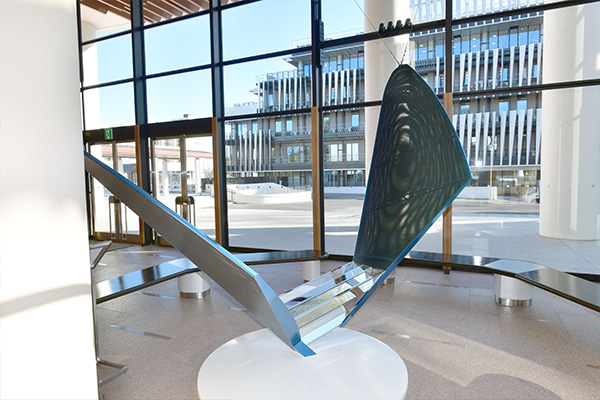 The Blue Wings are supported at one point, equivalent to its previous installation at the Haneda Airport. The key to this installation is the rainbow that appears when appropriate natural lighting or illumination is shone through the crystal prism or the gratings at the torso. Since the previous installation drawings from 25 years ago were lost, Kikukawa's team on-site measured and calculated the best placement for this monument.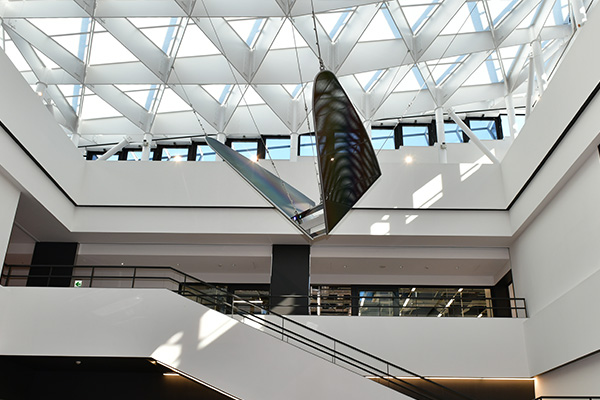 The Rainbow Wings were installed to appear flying within the atrium of the facility, therefore, the foot base of the monument was cut off. To balance the monument in space, the monument was placed on a foundation for support, then hung by six 4170mm to 8025mm of stainless-steel wire.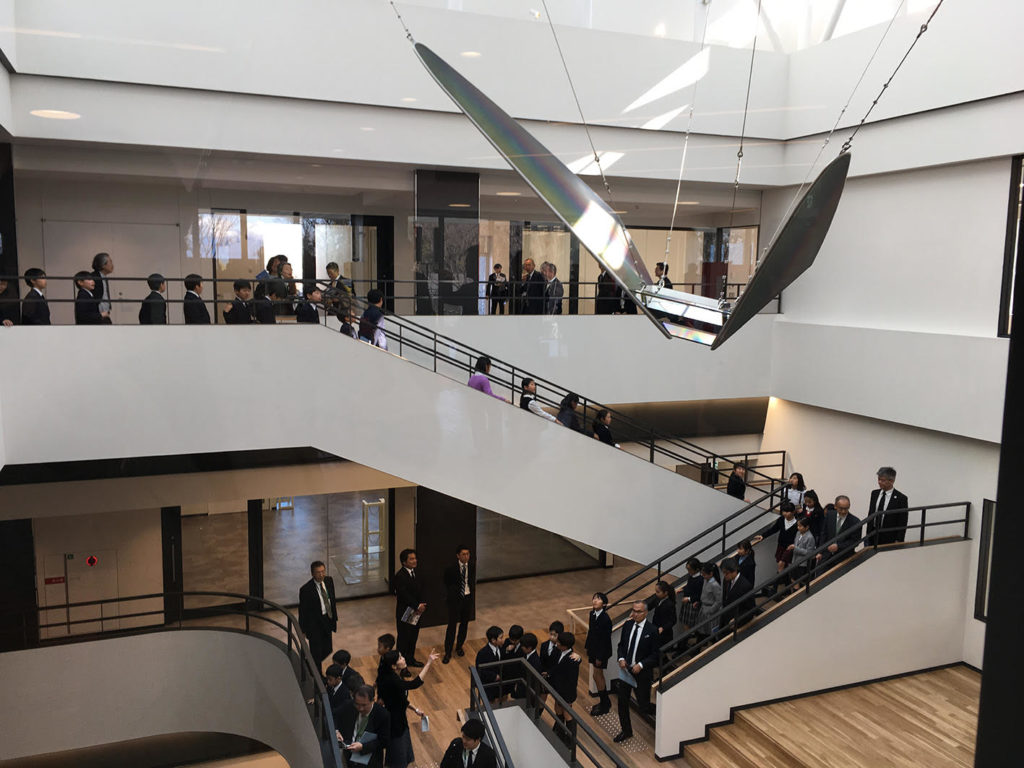 As shown, Kikukawa is able to provide high-quality services for relocation projects with strict requirements.
Click here for more information on Naoya Sakagami's artworks
Click here to view more renovation projects