March 31, 2023
A feature ceiling crafted in metal brings a distinguished impression to an interior space. This works for entire areas of all ceilings, but partial use for standard boarded ceilings and system ceilings would also create a focal point. In this example, we will look at a decorative ceiling introduced into an office space.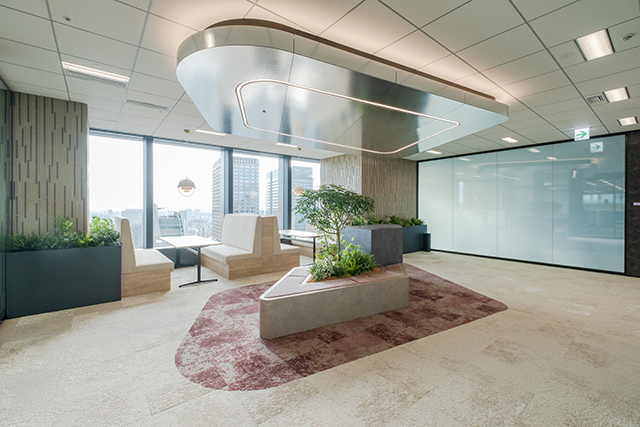 This ceiling was installed in the headquarters of Remedy & Company Co., Ltd., a company engaged in pharmaceutical development. The office is located on the 23rd floor of Tokiwabashi Tower, a multi-purpose building situated in front of Tokyo Station. KIKUKAWA installed a glamorous and lustrous decorative ceiling in the entrance lounge, to match the concept of the office as an "Innovation Gateway".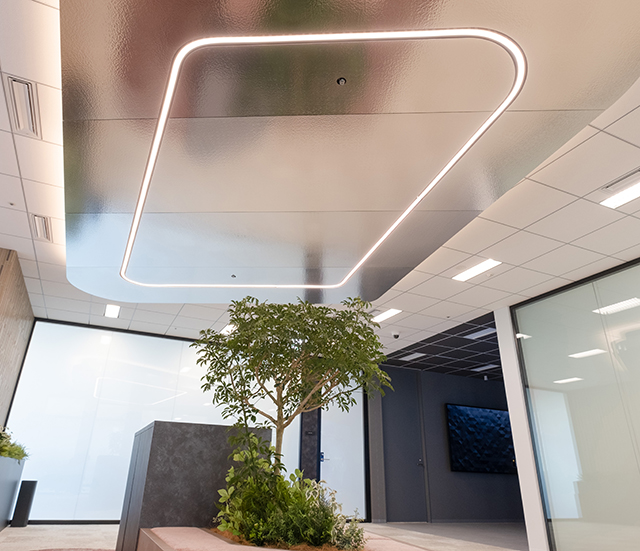 This feature ceiling is parallelogram in shape and sized around 5,200mm x 3,200mm. It is finished in our "High Bright Silver Colour Hammertone", one of the options available for our Alumiére® range of luminous anodized aluminium in textured finishes.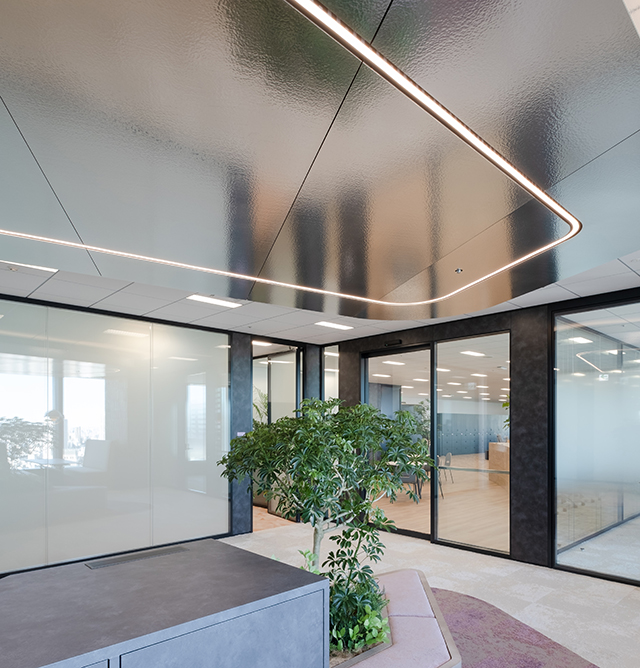 The ceiling is composed of ten cut panels, each 3mm-thick. The largest panels are approx.1,000 mm x 3,600 mm, which is relatively large for a Hammertone finish. The panels were installed using a clip-type fitting, which enabled a slim 3mm joint that didn't impair the overall look.
The perimeter comprises upstand panels in the same Hammertone finish and recessed closing panels in steel painted in black, at a width of 150mm and surrounding all four sides. LED lighting has been installed both behind the ceiling panels and in an integrated 55mm-wide slit to make the decorative ceiling stand out.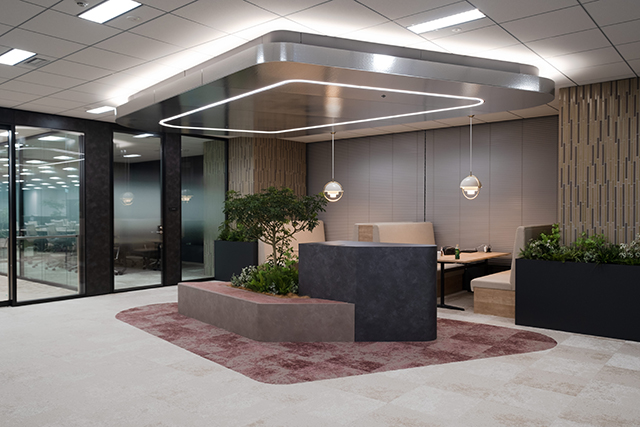 The client for this project was originally interested in our Minamo® range of water ripple panels in mirror-polished stainless steel. Since this was for a ceiling, as a comparatively lightweight alternative we suggested our "High Bright Silver Colour Hammertone" finish in aluminium, which is high-gloss, and presents a concave-convex texture. In comparison to the Minamo® range, this finish offers a more delicately textured surface and softer reflective properties, which convinced the client ultimately.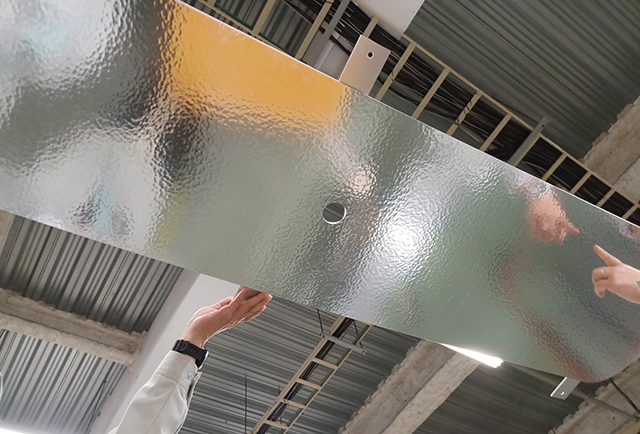 Click here to learn more about the Alumiére® range
Click here to learn more about the Minamo panel® range
This was the first project to feature Aluméire's High Bright Silver Colour Hammertone finish on a large scale and shows how the textured Hammertone finish can soften the tone and reflection of light. This is a perfect example of how you can incorporate the refined shine of metal into your project.