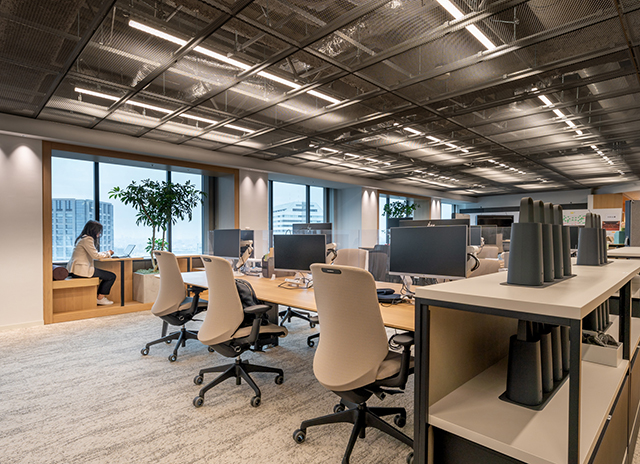 Expanded Metal Ceiling installed in the ceiling of the office workspace*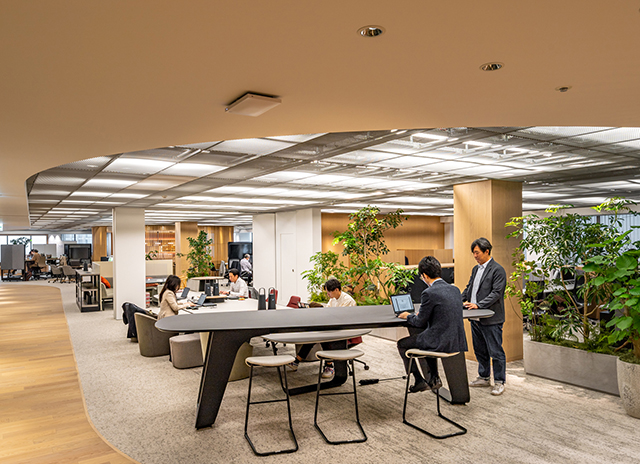 Interfaces with curved clipped ceilings were handled using irregularly shaped panels*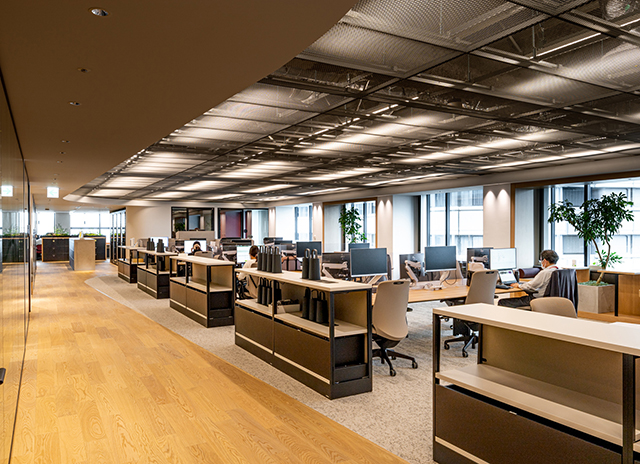 A ceiling area in Expanded Metal Ceiling breaks out from a standard ceiling, bringing definition to the space.*
*Images: courtesy of Okamura Corporation
■Expanded Metal Ceiling for an Office Ceiling
We Labo, the main office of Okamura Corporation, is located across the 24th to 26th floors of New Otani Garden Court in Tokyo. Okamura Corporation is an office furniture manufacturer also engaged in introducing new ways of working and designing office spaces, and We Labo is intended as a space that communicates its corporate culture.
KIKUKAWA fabricated and installed ceiling panels in the workspace area on the 26th floor. In response to the client's request to "decorate a large ceiling with lightweight material that has a metallic feel", we delivered an expanded metal ceiling, crafted in a mesh ceiling material that could partition off the air conditioning equipment and lighting fixtures.
■Using Large Expanded Metal Mesh with High Open Area to Prevent the Ceiling from Feeling Oppressive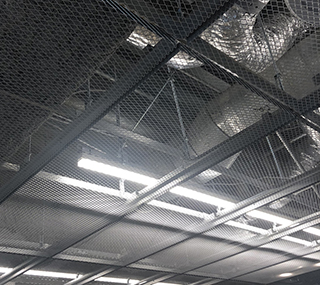 Expanded Metal Ceiling is an aluminium ceiling material made from expanded metal in a fine mesh. This mesh is exactly what reduces any sense of the ceiling being oppressive. Although adequately concealing the ducts and cabling in the ceiling, this sharp and lightweight material still achieves a feeling of airiness, similar to that of a skeleton ceiling.
The standard panel dimensions are 600mm x 1,800mm, and panels are fitted with a hook-type fixture which allows for easy removal for maintenance work on ceiling equipment. We resolved the issue of interfacing with curved clipped ceilings and wall surfaces by fixing expanded metal in place with wire.
Fire regulations in Japan require open area of at least 70% or more, and so we used the mesh opening pattern (CTEXC-D32), which at 85% is the highest in our line-up. The material was then finished in silver anodization. We first produced a full-scale panel size sample, as requested by the client, to enable the client to verify how the ceiling would look on site.
■Handling High Volumes and Short Lead Times with Design and Production Streamlining
Total ceiling area of 480m², more than 460 panels in total. Since many panels needed to be irregularly shaped and the timeline for the refurbishment was very tight, we had to be both quick and adaptive.
During the design phase, we proposed an initial ceiling layout before embarking on full-scale drawings; this allowed us to source the necessary materials in advance. We made preparations to enable us to start production as soon as drawings were approved. In addition, by using the same fittings as previous similar projects, we were able to shorten the verification time for standard fittings. We used the time saved here to work on the irregularly shaped panels.
During the production phase, we shortened lead times by altering the processing order. Generally, the silver anodization finish is applied after bending. For this project, after confirming from prototypes that there would be no issues, we applied the anodization finish first before proceeding on to bending.
■Defining Spaces Using Expanded Metal Ceiling
Each department working on this project made adjustments to ensure that the production period could be reduced as far as possible without quality being compromised. When challenges presented themselves, all project members shared information and held discussions in order to find solutions. By adopting a collaborative framework that went beyond normal departmental confines, we were able to meet our client's desired timescale and the client was delighted with the project outcome.
In this project, Expanded Metal Ceiling was used for those areas of the office containing desks, while another ceiling material was used for corridors. By combining Expanded Metal Ceiling with ceilings crafted in other materials, each ceiling material functioned as a zone signifier, thereby bringing definition to the space. This project clearly illustrates both the design appeal and the functionality of Expanded Metal Ceiling.
Product
Material
Metal Finishes
or
Metalwork
Ceiling Panel
Aluminium
Expanded Metal
Silver Anodization
| | |
| --- | --- |
| Project | OKAMURA We Labo |
| Client | OKAMURA CORPORATION |
| Architect | Steven Leach + Associates |
| Contractor | SANKYO INTERIOR DECORATE Co., Ltd. |
| Completion | 2022 |
| Location | Chiyoda-ward, Tokyo |