ecosia - R Air-con (Radiant HVAC System)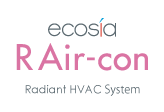 Here is a HVAC system that relies on infrared heating (also known as radiant heating); the transfer of heat from warmer to cooler objects.
This easily installable system offers many benefits for the inhabitants and the environment, and has resolved many of the problems that impeded the adoption of conventional radiant heating systems.
The health benefits stem from reduction of dust or other emissions, sound and any discomfort resulting from air flow. The system also improves the energy efficiency of the building, thereby reducing utility costs.

KIKUKAWA is driven to create a beautiful, functional and comfortable space.