July 18, 2023
Metal materials can be presented and transformed in countless ways through the selective application of different processes and finishes. This makes metal an ideal material for use in artworks and monuments. Here we will introduce a moon-inspired artwork crafted in copper.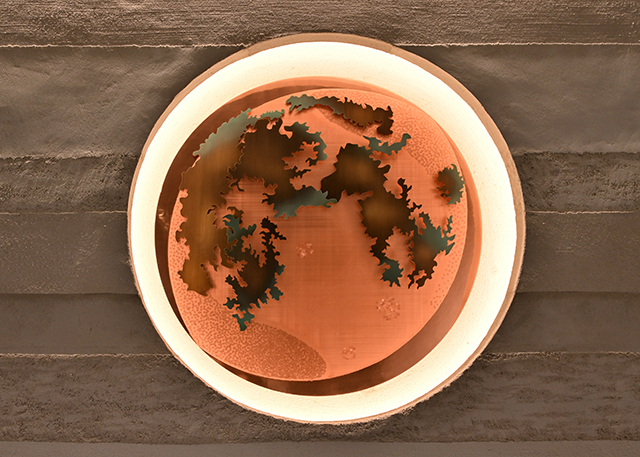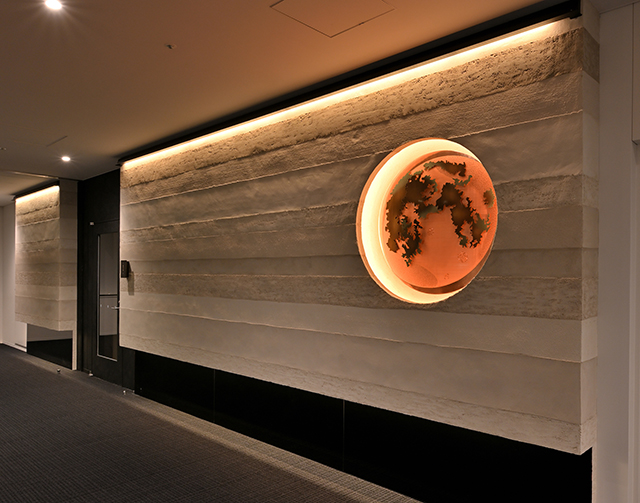 Tokonoushin is a kaiseki (traditional multi-course dinner) restaurant specialising in meat dishes, located in the Omiya Mongai multi-purpose complex near Omiya Station in Saitama. The restaurant's name means "to take out the old and bring in the new"; the name was chosen by the owners in the hope that a visit to their restaurant would allow diners to discard any negativity from that day and instead make new, positive memories.
The copper artwork displayed at the entrance was designed to bring a representation of that concept into the restaurant space. The moon, as a symbol of renewal and cyclicality, is depicted in copper, a material which, like the moon, can transform into various appearances. The artwork was designed by Mai Unaki of club Mai architects, a first-class certified architectural firm.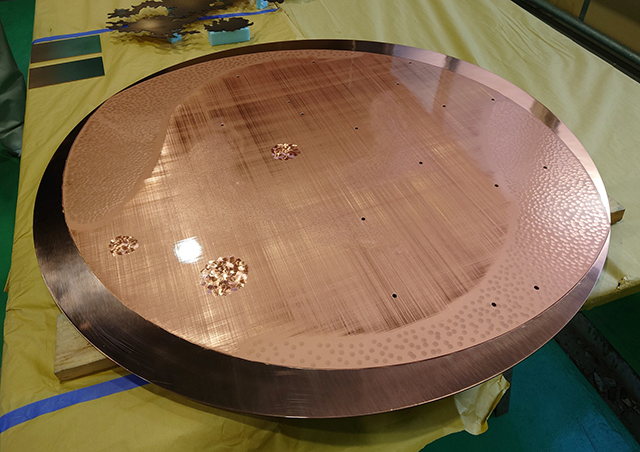 Various processes and finishes were applied to a copper plate, 900mm in diameter and 2mm in thickness, to evoke the patterns of the moon's surface. Some peripheral parts of the plate were polished to draw out the luminosity of copper, while other parts were treated by blasting followed by a Tsuchime (hammertone) finish. We adjusted the density of the hammertone pattern to achieve a gradation-like effect. For the central part of the plate, we applied a base pattern of crossed hairline (HL) grind marks, both vertically and horizontally, followed by a permanent hairline (PHL) finish. The patterned accent pieces, designed to evoke nebula, were hand-crafted by artisans and finished with bespoke polishing. This single artwork features multiple finishes, each of which showcases brilliant craftsmanship.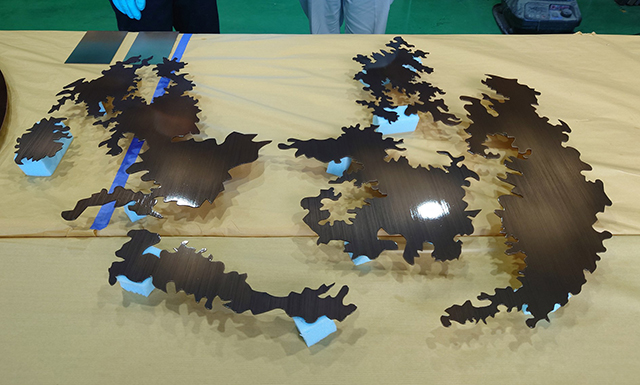 The subtle patterning visible across the moon, sometimes called the lunar maria or likened to the shadow of a rabbit, was recreated through the intricate laser cutting of a 2mm-thick copper plate. Our FURUMI sulphurisation finish, which recreates the effects of aging on copper, was then applied in two shades, along with a patina effect paint finish in a dark green tone. These parts were affixed at varying heights (4mm, 8mm, 12mm) to the base plate to create a floating, 3D effect.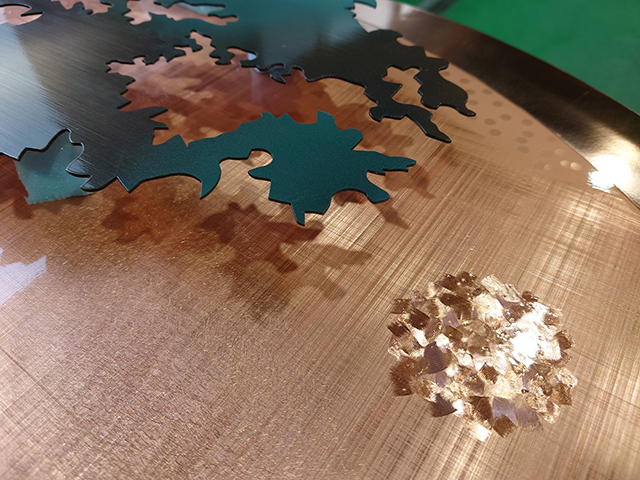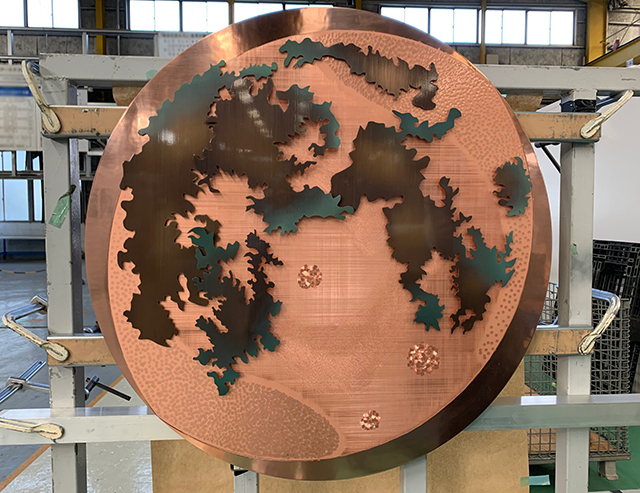 Metal fittings were attached using studs to the back of the base copper plate, and the artwork was then affixed to a backing plate mounted on the entrance wall. We also undertook repeated testing of the lighting method to complete this floating moon monument.
As this project shows, the beauty of metal is that the same material can be worked in different ways to draw out different expressions. At Kikukawa, we are able to draw upon our vast experience, honed through tailor-made production, to examine the wide range of options available and propose optimal ways to use metal materials to achieve the desired effect for any project.