July 21, 2020
Bronze alloys have long been used as architectural materials, especially bronze composed of 90% copper and 10% zinc (specified in Japan as JIS-C2200). The colours of these bronze alloys are easily affected by welding heat, known as heat tints, appearing red surrounding the welding bead creating a cosmetic imperfection.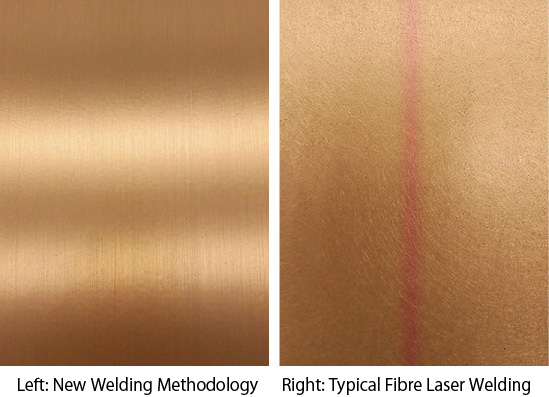 In response to this, Kikukawa has developed a new methodology to weld bronze alloys of 90% copper and 10% zinc without discoloration. This is a follow-up to our technological development in 2018 when welding brass (Cu 60%, Zn 40%) without discoloration became available. This latest development allows welding applications to double-curved products or complex curvatures.
Click here for more information on Kikukawa's technology to weld brass without discoloration


The new methodology relies on fibre laser welding. While fibre laser welding implements deep welds with minimal welding discoloration or distortion in comparison to TIG welding, it still left a red heat tint surrounding the welding bead. This cosmetic impact limited the availability of hairline (HL) finish or PHL (vibration) finished bronze in architecture, as these finishes take advantage of the bronze' metallic texture and are unforgiving to any cosmetic imperfections such as discoloration or dents. Thus, this new development expands the design availability for high-end projects requiring high-quality and high-strength bronze products.
Pictured below is a mock-up of Bloomberg European Headquarter's interior ramp. Such complex designs are now achievable with bronze using its original texture.
Click here to find out more about Bloomberg European Headquarter's Ramp, sample pictured above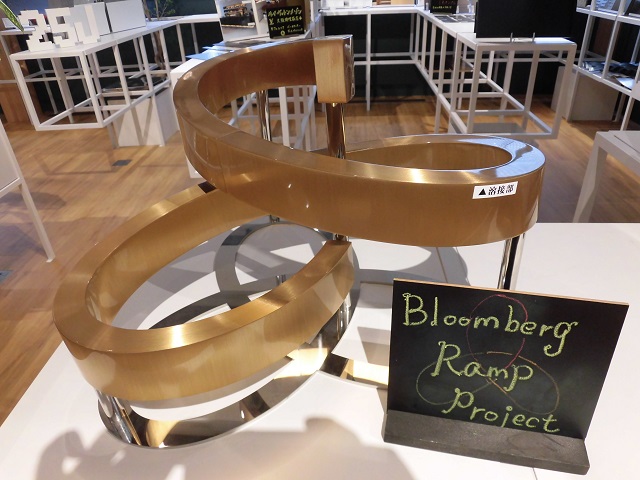 Click here to find out more about Kikukawa's fibre laser welding technology
*Bronze: As a metal architectural construction specialist, Kikukawa specifies the bronze alloys in three categories; copper (Cu 99.9%), bronze (Cu 90%, Zn 10%), and brass (Cu 60%, Zn 40%). The differences are observable in colour, which can be viewed in our bronze finish samples page.

Click here to view our bronze finish samples. Differences can be best observed through 'D-PHL (Vibration) Finish with Glossy Clear Lacquer Coating' finished samples