July 27, 2021
Silky Blast Gradation is a new addition to the Silky Blast® series of bead blasting* finishes exclusively from KIKUKAWA, a high-end metal fabrication specialist in interior and exterior building projects. Silky Blast Gradation was added to the series on June 21st 2021.
Silky Blast Gradation is a finish that achieves a beautiful gradation through the careful and gradual adjustment of blast intensity. Gradual changes to the coarseness of the blast medium make it possible to achieve a shifting reflective effect through a soft sheen.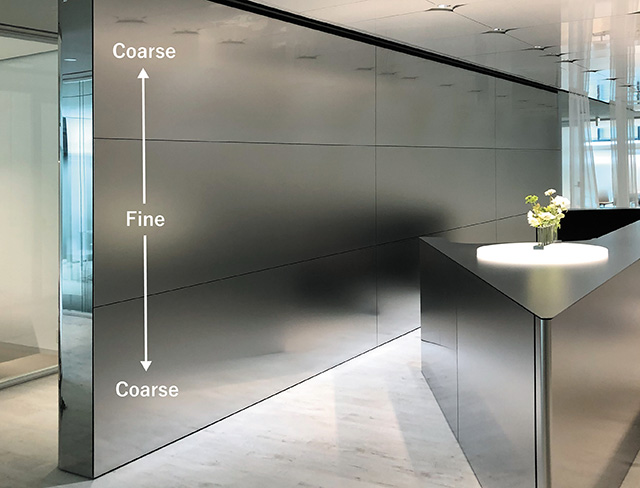 At KIKUKAWA, we understand the increased demand from clients for diverse finishes with subtle sheens and the move away from uniform finishes. We hope that the Silky Blast Gradation finish will expand the range of choices available to designers and, going forward, to have increasing numbers of clients choose this finish for their interior and exterior stainless steel projects.
*Bead blasting: a surface treatment that creates a satin-like texture by propelling blast media onto the surface of sheets or products.
■ Key Features of Silky Blast Gradation
・A delicate gradation that can achieve everything between a mirror-like shine and the soft sheen of frosted glass.
・Achieve luxurious ambience through a metallic finish unique to stainless steel
・Blast gradation creates a feeling of reflections moving across each panel
・As well as achieving gradation across a single panel, we can achieve gradation effects where gradation changes by panel (see below)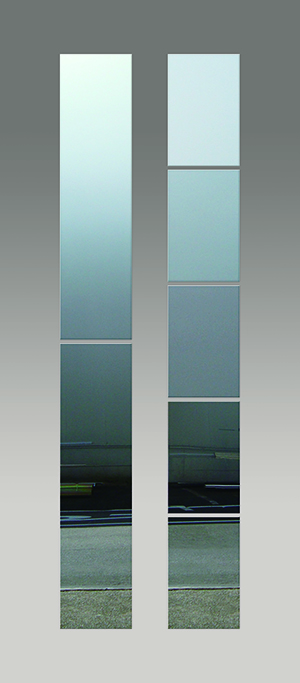 ■ Overview of Silky Blast Gradation
・Material name: Silky Blast Gradation (Silky Blast® is a registered trademark of KIKUKAWA.)
・Grade / Finish: SUS304, plate thickness min. 0.5mm, Silky Blast finish
・Panel size: Max. W1200mm by H4000mm (Contact us to discuss areas greater than this size)
Click here to download the brochure
Click here to find out more about Bead Blasting (Silky Blast)
Click here to learn more (Japanese link):
https://www.kikukawa.com/citytexture/silky-blast-gradation/
Click here for the press release in PDF (Japanese):
2021.6.29 Kikukawa News Release (silky-blast-gradation)