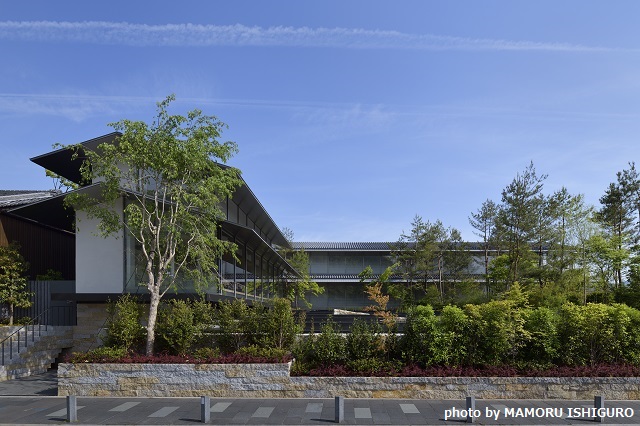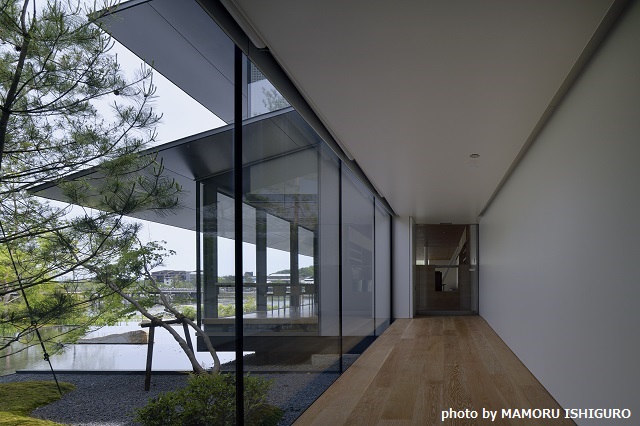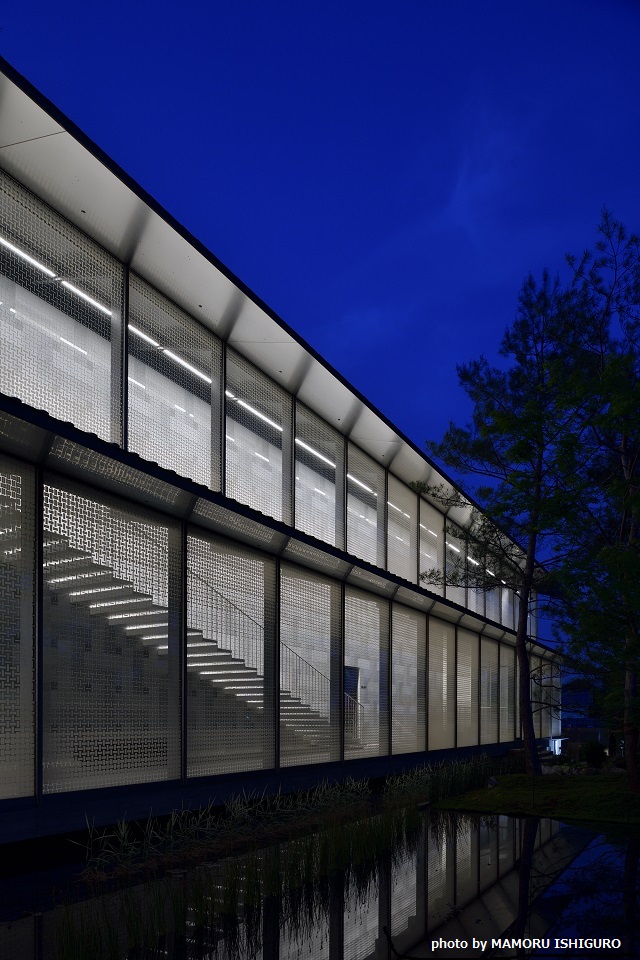 ■Metal and Traditional Architecture
On November 2019, Fukuda Art Museum opened in the midst of Saga Arashiyama, one of the leading tourist destinations within Kyoto.
Fukuda Art Museum aims to be a museum that will last for 100 years. In light of this client intent, the design blends essential qualities of Kyoto's traditional Machiya townhouses and refined, modern Japanese-style exterior that would hopefully serve as the new standard for Japanese architecture.
Kikukawa's eaves soffit and other stainless-steel panel constructions contribute to the implementation of this concept and builds on the context of the area.
■Building with Limited Tolerances
To implement the refined design, the building is detailed with limited tolerances and tight requirements – and Kikukawa's stainless-steel construction was not an exception.
This was particularly true for the slanted eaves soffit construction that was limited to 50mm thickness and 6mm joints, however, Kikukawa devised details that realises the requirements in both aesthetics and function. In close collaboration with the architect and contractors, our stainless-steel panels were installed to an even surface, absorbing the tolerances of the steel roof.
■Sharp Edged Bending and Thin Joints
Slanted roof and soffits are lined with Kikukawa's eaves soffit panels, 320㎡ for the Art Museum and 195㎡ for the café. For areas with roof extensions of 1.8m, the soffit panels are designed in two rows, while areas with 1.3m extensions are lined with one row, both installed in a longitudinal pitch of 4000mm.
The details of the panels are 2mm thick stainless steel finished with PHL (vibration) finish, with sharp edge bent corners to emphasize the refined details of the thin joints. The panels are designed with backing frames that absorbs the tight requirements, fulfilling the high standards of the project and achieving a refined physique.
Click here to find out more about Kikukawa's bending technology
■Implementing Non-adjustable Details
In addition to the eave soffit panels, Kikukawa has fabricated and installed various interior stainless-steel panels. Many of these interior constructions were designed to achieve a seamless aesthetic thus were drawn with tight (more like non-adjustable) details. This included levelling of the concrete fittings and the stainless-steel wall panels, or unitized fittings and wall panels.
As metal constructions tend to be one of the last phases to be installed, absorbing the tolerances and installing with non-adjustable details were challenging, however were achieved through careful planning and our expertise.
■Craftsmanship and Flexibility
Kikukawa's contributions for the Fukuda Art Museum was achieved through a close collaboration with the architect and contractor: since the initial inquiry, quotations were concurrently submitted with design detail proposals for implementation. This partnership, Kikukawa's craftsmanship and ability to provide solutions earned a high regard from the architect.
Product
Material
Metal Finishes
or
Metalwork
Slanted Roof Eaves
Eave Soffit
Stainless Steel
Sharp Edge Bending
PHL (Permanent Hairline / Vibration)
Lobby, Windbreak Room, Elevator Hall and Others
Interior Wall
Stainless Steel
Silky Blast
Lobby, Windbreak Room, Elevator Hall and Others
Metal Fittings
Stainless Steel
Silky Blast
Fluroresin Paint Coating
| | |
| --- | --- |
| Project | Fukuda Art Museum |
| Client | AYG LLC. |
| Architect | Yasuda Atelier |
| Contractor | Toda Corporation |
| Completion | 2019 |
| Location | Kyoto City, Kyoto |