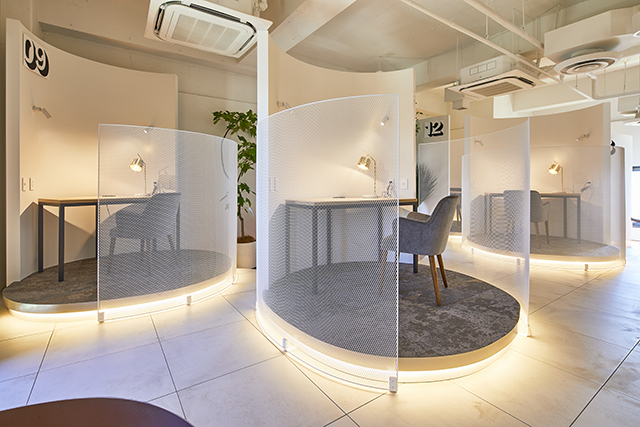 Circular Booths on the 8th floor. Expanded metal partitions balance both design and functionality.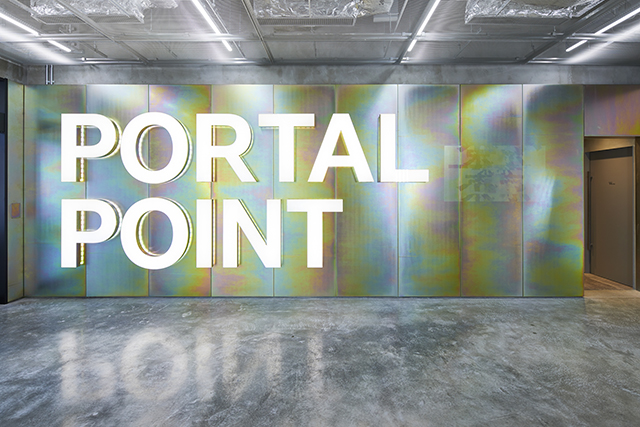 The first floor entrance of 'PORTAL POINT HARAJUKU'. The ceiling is lined with aluminium expanded metal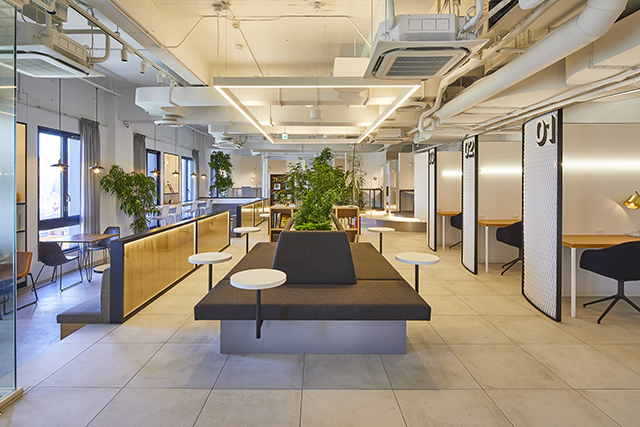 Park lounge on the 8th floor. The two seater booths to the right are separated by expanded metal partitions.
■Creating an Office Space with Expanded Metal
'PORTAL POINT' provides a collection of shared office space designed to promote innovation for start-ups and creators. As a flagship store, 'PORTAL POINT HARAJUKU' opened in Sendagaya area of Harajuku.
Kikukawa's expanded metal line the ceiling of the first-floor entrance and stand as partitions for the eighth-floor park lounge. As a material that balances functionality and design, Kikukawa's expanded metal contributes to the creation of open and unique office space.
■Partitions that Balance Functionality and Openness
On the 8th floor, round booths of 2m diameter are randomly placed. As a contract-based coworking office space, the booths require a level of separation for privacy and openness to promote innovation and creativity. To balance both, Kikukawa's expanded metal was chosen to fabricate the partition.
Eleven circular booths and three 2-seater booths are separated by 1.2mm thick steel expanded metal with various opening sizes. Each partition is finished with white acrylic resin-baked coating and is installed so that the openings are vertically long.
As expanded metals are able to create different impressions based on differing patterns, two types of expanded metal with varying bond pitch and strands were used for this project. The partitions of the circular booths are designed to be light and transparent, implemented by expanded metals with bonds at 20mm pitch, and 1.3mm wide strands. On the other hand, the 2-seater booths close to the shared lounge are designed to provide more privacy thus are crafted from expanded metals with bonds at 99mm pitch, and 10mm wide strands.
Click here to find out more about Kikukawa's Expanded Metal
■Curving Expanded Metal
To fabricate the partitions of the circular booths, 16 pieces of 450mm to 2900mm wide, and 1500mm long expanded metal sheets were metalworked.
To implement light and airy space, the client requested to minimize the frames. Kikukawa fabricated multiple prototypes and mock-ups to understand the most suitable design and to secure the required strength. The finalized design uses 6mm diameter steel round bars as frames.
Kikukawa overcame various unique challenges that came with metal crafting expanded metals with fine strands with our expertise and research and development, such as frame welding and the methodology to curve the expanded metal.
■Functional Expanded Metal Ceilings
Expanded metal ceiling on the first-floor function as screens for ducts and facilities, while creating an open high-ceiling space. The expanded metals functionally fulfill that middle ground between skeleton ceilings and board ceilings.
These ceilings are crafted from 1.5mm thick aluminium finished with silver anodization and electrodeposited matte clear coating with the same expansion specification as the circular booths (20mm pitch bonds, 1.3mm wide strands). Twenty-five pieces of expanded metals with typical dimensions of 1617mm long and 900mm wide are installed. To optimize the installation that tends to become complex for renovation projects, Kikukawa's team reviewed the potential conflicts with our panels and the air conditioning equipment and existing structures based on multiple onsite measurements.
In addition, the hooking details adopted for the backing frames make the expanded metal panels easily detachable. This and the cross arm brace details, provide the practicality for easy maintenance in the air conditioning equipment and lighting systems and provide the necessary seismic resistance.
■Kikukawa's Bespoke Metal
Kikukawa's team collaborated closely with the client in detailed design and mock-ups to respond swiftly to the limited delivery time. As a result, Kikukawa and our bespoke metal construction work were evaluated highly as providing "consultations and solutions to craft the required design with original products."
Product
Material
Metal Finishes
or
Metalwork
1F Entance
Ceiling, Expanded Metal
Aluminium
Expanded Metal
Silver Anodization
8F Circular Booth
Partition
Steel
Expanded Metal
Acrylic Baked Coating
8F Two Seater Booth
Partition
Steel
Expanded Metal
Acrylic Baked Coating
| | |
| --- | --- |
| Project | PORTAL POINT HARAJUKU |
| Client | REALGATE INC. |
| Architect | REALGATE INC. |
| Contractor | BENEFIT LINE Co., Ltd. |
| Completion | 2020 |
| Location | Shibuya-ku, Tokyo |