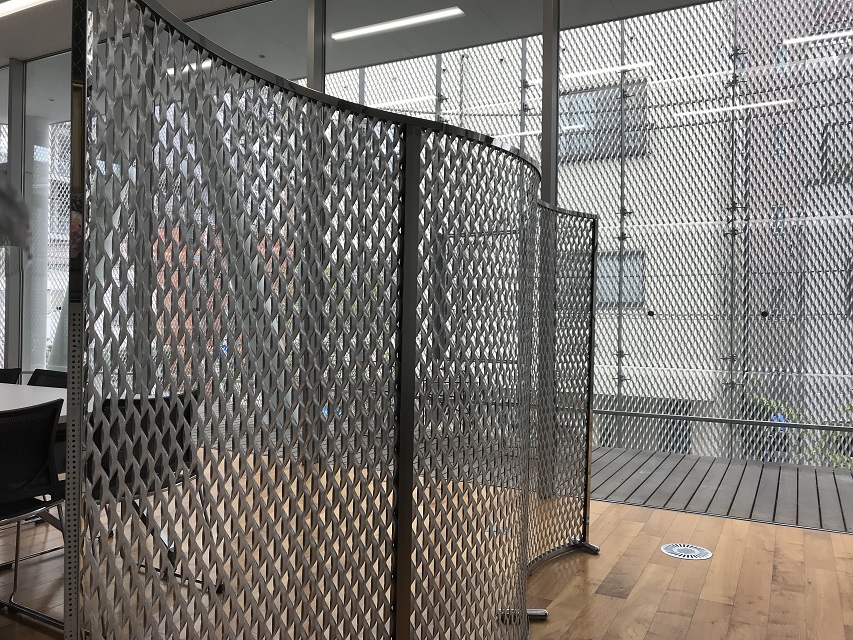 Expanded metal is a mesh-like sheet metal that has various uses, such as a decorative façade, in architecture.
At Kikukawa, expanded metal with thicker strand width is provided as louvres that balance design, ventilation, visibility, and privacy.
Raised expanded metals add depth to the louvres, and the dimensional aspect contributes to varying impression depending on light conditions or the angle. With perforations, visibility and open-ratios could be enhanced.
Main Features
-Allows visibility (circulation/natural lighting) and privacy
-Versatile in design and adds depth
-Low weight and high workability
-Sustainable product (environmentally friendly)
Applicable
Materials
-Aluminium
-Steel, Galvanized Steel
Please consult us on other materials
Capacity
-KEX Series (Kikukawa original, with thick strand width)
-KCT01:CTKEX Series (Semi-bespoke series with installation system)
-Perforated Expanded Metal "Rattan"
Other JIS specified patterns, and bespoke patterns are also available upon request
Maximum
Workable Size
Sheets: 1.5mm ~ 3.0mm
Maximum size: 1250mm(W)x 4000mm(L)
*Please consult us on any products over this size
Remarks
Please consult us for uses in areas that are within human reach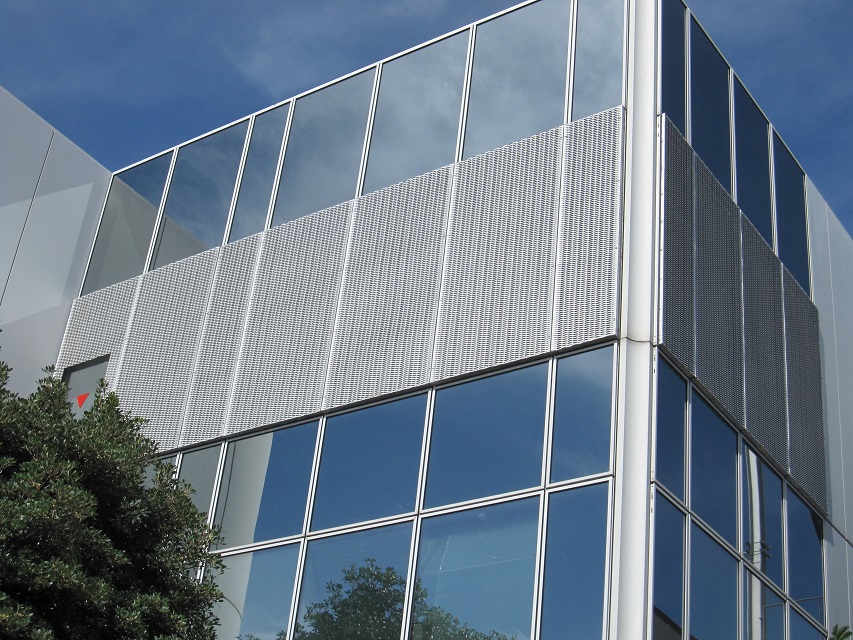 ■What is Expanded Metal?
1. Characteristics of Expanded Metal
Expanded metals are produced by cutting and stretching metal sheets to form regular patterns such as diamonds or hexagons. Unlike mesh that is woven or welded, the bonds are uniform and solid.
Other characteristics are as follows:
-High strength
-Low weight
-Versatile in design
-Provides anti-slip function
-Allows circulation/visibility/natural lighting (if used as a façade)
-Sustainable product (environmentally friendly)
-Durable
-Highly workable
-Smooth installation
-Able to accommodate high volume production
2. Expanded Metal Terminology
Strand – A single metal strip that forms the border of the opening
Bond – Intersection of two strands
L.W. (Long Way) – The distance between the long bonds
S.W. (Short Way) – The distance between the short bonds
Thickness – Thickness of the base material
Width – Amount of metal fed into the expanding machine to be cut
The terms listed above are based on JIS standards. JIS standard products include steel and galvanized steel, and types include grating (hexagonal pattern) and standard (diamond pattern). JIS compatible products are stainless steel and aluminium.
Requirements outside of JIS standard types may be accommodated by fabricating the necessary dies.
3. Uses of Expanded Metal
In architecture, expanded metal has various applications for its strength and durability, such as building facades, room dividers (partitions), sunscreens, fences, cladding, grilles, columns, wall panels, ceilings, walkways, and more. Its functionality and aesthetics, as well as the workability and versatility, contribute to its wide usage as interiors and exteriors.
Outside of architectural industry, the expanded metals are used in various manufacturing industries such as electronics, automotive, plants, and more.
Flattened expanded metals are also available by feeding the raised expanded metal to a cold roll.
4. Materials of Expanded Metal
Applicable materials include steel (including galvanized steel), stainless steel, aluminium, bronze alloy, titanium and other thin metal sheets.
■Expanded Metal as Louvre Facades
There is high demand for use of expanded metal as exteriors, for its functionality, design, depth, versatility, and workability.
Kikukawa's expanded metal has wider strands – the new aesthetics lead to higher designability and depth. The louvres leave varying impression depending on the time of day.
These expanded metal louvers also function as a sunshade screen.
■Kikukawa's Line-up
Based on its expertise, Kikukawa has developed the following products to explore the possibilities of expanded metal louvres.
1. Kikukawa CITY TEXTURE Series Vol.1 (KCT01): Expanded Metal
Drawing from its expertise in bespoke metalwork, Kikukawa has standardized the patterns, sizes, and installation details of expanded metal to launch a line of semi-bespoke expanded metal.
The KCT01 series balances aesthetics, functionality, and has installation details for efficient installations. By standardizing these details, Kikukawa has shortened the lead time and fabrication costs in comparison to bespoke expanded metals.
Kikukawa fabricates and sells these expanded metal sheets.
KCT's standard expanded metal sheet sizes are 1000mm x 1000mm and 1000mm x 2000mm. Four patterns with varying mesh pitch (L.W.) from 76mm ~ 203mm are available. Available in aluminium, with anodization and powder paint coat finish.
For more information, click the link below
Kikukawa's catalogue – KCT01: Expanded Metal (Japanese)
2. "Rattan" – Perforated Expanded Metal
"Rattan" is Kikukawa's original series of wide strand expanded metal with 2mm perforations. As an exterior, it acts as a sunshade screen and as a façade it provides a certain level of openness and ventilation.
To ensure the functionality of expanded metal with perforations, various experimentations are required. Therefore, the line-up consists of two patterns fabricated from 1.5mm thick aluminium.
<Rattan: KEX-Y100-P>
The pattern of the Y series is called "yoroi" in Japanese with long hexagonal 3mm openings. The strands are 18mm wide and the sheets are perforated with 2mm circles. These expanded metal louvres function as sunshade screen and ensure visibility.
Based on internal data*, the temperature of windows with and without Rattan: KEX-Y100-P varied at 5 degrees, confirming the environmentally friendly aspect of these louvres.
*Data from internal experimentation. Date: 2018/March/14. Afternoon sun at 15degrees. Room temperature 23.1 degrees. The temperature of a window with Rattan 22~24 degrees. The temperature of a window without Rattan 28.7 degrees.
<Rattan: KEX-D99-P1>
This is a perforated pattern of KCT01, "CTKEX-D99".
With perforations, the open ratio is higher than 27%. The detail of this unique design is 17mm wide strands, perforated alternatively.
■Kikukawa's Technology – Expanding Metal
Kikukawa has been building its metal-crafting expertise in expanded metal by answering various requirements.
This includes the development of installation details that are near invisible from the outside; a detail that balances functionality and design. Kikukawa's technology on fabrication design enables 3mm joints which unites multiple expanded metal sheets to a singular facade.
The gentle curvatures of Kikukawa Group Tokyo office or the three-dimensional curvatures as exemplified by POKKE can be implemented with Kikukawa's metal-crafting expertise.
Project Gallery – Kikukawa Group Tokyo Office
Project Gallery – POKKE (Ueno KS Building)
■Precautions before selecting expanded metal
Expanded metals are cut and expanded –leading to a number of exposed sharp edges, and die marks at the bond. For this reason, please consult us prior to selecting expanded metal for areas with high traffic.
In regards to finishes, as expanded metals have openings, selecting anodization as the final finish requires caution. Powder paint coating has high affinity; however, other paint types or finishes may be available upon request.
Please consult us under the following circumstances:
-Material is aluminium or galvanized steel
-Material thickness is 1.5mm ~ 3.0mm, maximum size is over 1250mm (W) x 4000mm (L)
-Patterns not listed on KCT01
-Patterns of perforated expanded metal not listed on Rattan
■Environmental Benefits of Expanded Metal
Unlike perforations, fabrications of expanded metals do not produce scrap metal pieces or losses. As the metal sheets are cut and stretched to the S.W. direction, the resulting surface area of the metal sheet is larger than the original metal sheet. This, in addition to its light weight and high strength, makes expanded metals an environmentally-friendly architectural material. Selecting these eco-friendly materials for green design, such as sunshade screens, would enhance the green building properties.
Considerations for the environment are becoming a key factor in architecture, with sustainability and green buildings being incentivized by governments and ZEB** of buildings, expanded metals are gaining attraction for its environmentally friendly fabrication methodology and properties.
**ZEB: Abbreviation of Zero Energy Building. A building that consumes the amount of energy that is roughly equal to the amount of renewable energy created on-site.
■Please Consult Us
Expanded metal louvres are available in various materials, thickness and patterns. While varying factors or details lead to varying limitations, Kikukawa takes each request and requirement seriously. Our metal-crating abilities also enable us to combine metal working to JIS standardized expanded metal sheets or bespoke metal sheets to fabricate an entirely new product.
For fabrication feasibility or consultations, please do not hesitate to contact us.
To make an inquiry or for more information, click here
Contact Us