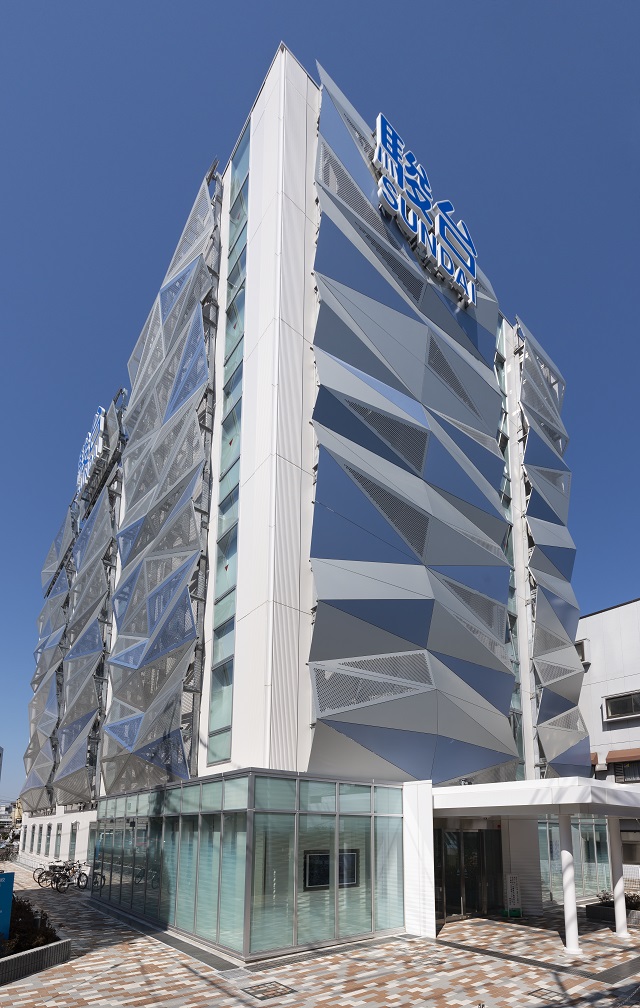 Triangular exterior cut-profile panels, forming a brilliant cut inspired by diamonds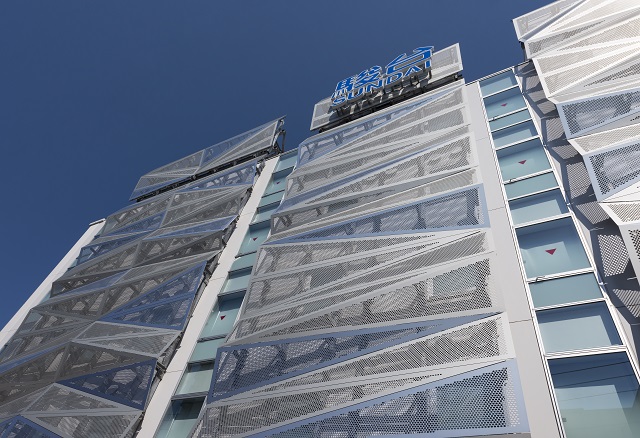 All panels on the south side are perforated for lighting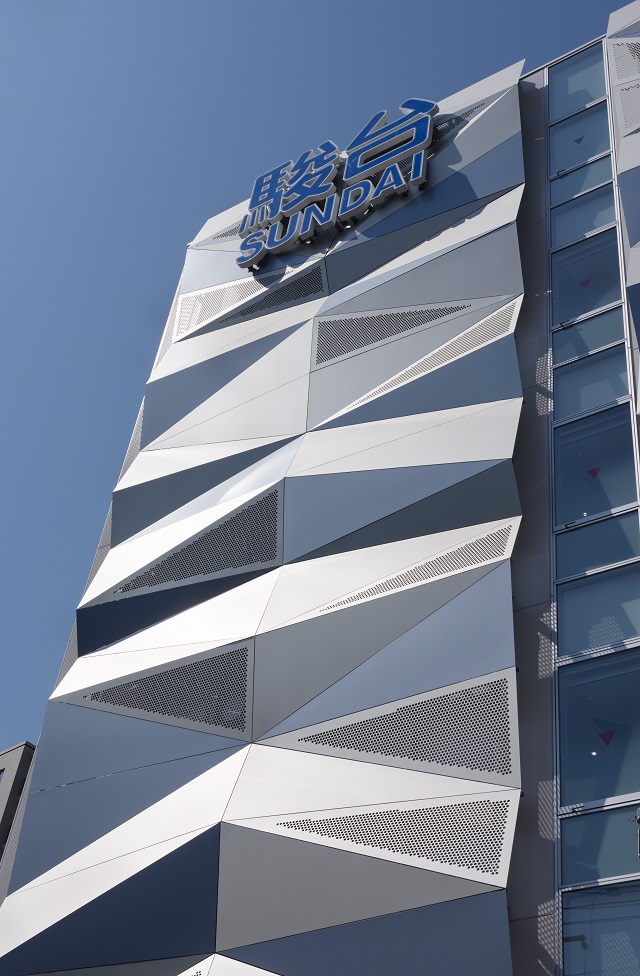 The use of non/perforated panels create a unique expression
■Realising the Clients' Vision with Outsized Perforated Exterior Panels
Five minutes from Kashiwa station, a central station of Kashiwa city north-west of Chiba prefecture, stands the new Sundai Preparatory School, Kashiwa. The building newly built following its relocation after 25 years in its previous location.
As one of the oldest and prominent extracurricular college-preparatory schools in Japan, the clients' vision was to build an environment that students would choose to study in. After 25 years in its previous location, the building was relocated and newly built.
■'Brilliant Cut' Exterior Panels
The designer likened the polishing process of a diamond to the students' achieving their full potential through learning. This thought is central to the design, inspired by a brilliant-cut diamond.
The exterior triangular aluminium panels are installed in differing angles, each diffusing and reflecting light. To maximize this effect, all panels are jointless, and details such as perforations and finishes are interchangeably applied.
■Design Consultation and Assistance
Our story began when Koken architects consulted Kikukawa as a metalworker that accommodates complex designs and extra-long perforated panels. Kikukawa's abilities in design, expertise, and machinery were essential in devising and implementing an optimal detail that satisfies the construction requirements such as wind pressure resistance, cost, and design.
■Outsized Triangular Panels
The 650m2 exterior is covered by 3.0mm thick triangular cut-detail panels. The panels are finished in silver anodization or in technical silver metallic fluororesin baked coating with a blue tint.
All panels on the south side are perforated for natural light intake, while only some of the east exterior panels are perforated. The façade panels are maximum 1450mm (H) and 6000mm (L), with 30mm diameter circular perforations of 40mm pitch in a staggered arrangement.
These panels are installed to the extruded cement walls at differing angles and depths ranging between 300mm and 600mm.
Click here to find out more about Kikukawa's perforating technology
■Providing a Comprehensive Solution
The diamond-like exterior panels required over 1000 kinds of brackets and 200 frames placed randomly due to the nature of the design. However, Kikukawa was able to achieve a smooth installation due to its QC control in fabrication and installation.
As a result, this project is an example of Kikukawa providing a comprehensive solution from designing details to installation.
Product
Material
Metal Finishes
or
Metalwork
Exterior Perforated Panels
Aluminium (3.0mm)
Silver Anodized
Fluororesin Baked Coating
(Silver Metallic)
| | |
| --- | --- |
| Project | Sundai Preparatory School, Kashiwa |
| Client | Sundai Preparatory School |
| Architect | KOKEN ARCHITECTS, inc. |
| Contractor | DAIWA HOUSE INDUSTRY CO., LTD. |
| Completion | 2019 |
| Location | Kashiwa-city, Chiba |