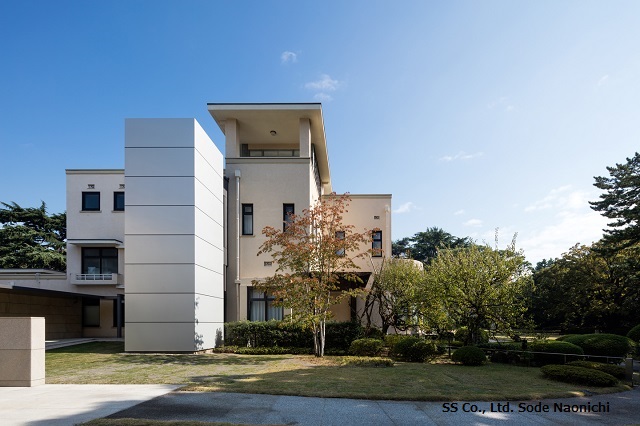 Exterior aluminium panels with vibration and silver anodization finish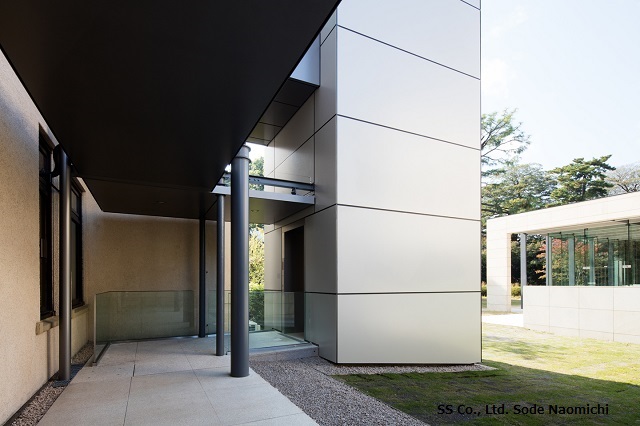 Exterior aluminium panels, with a gentle glow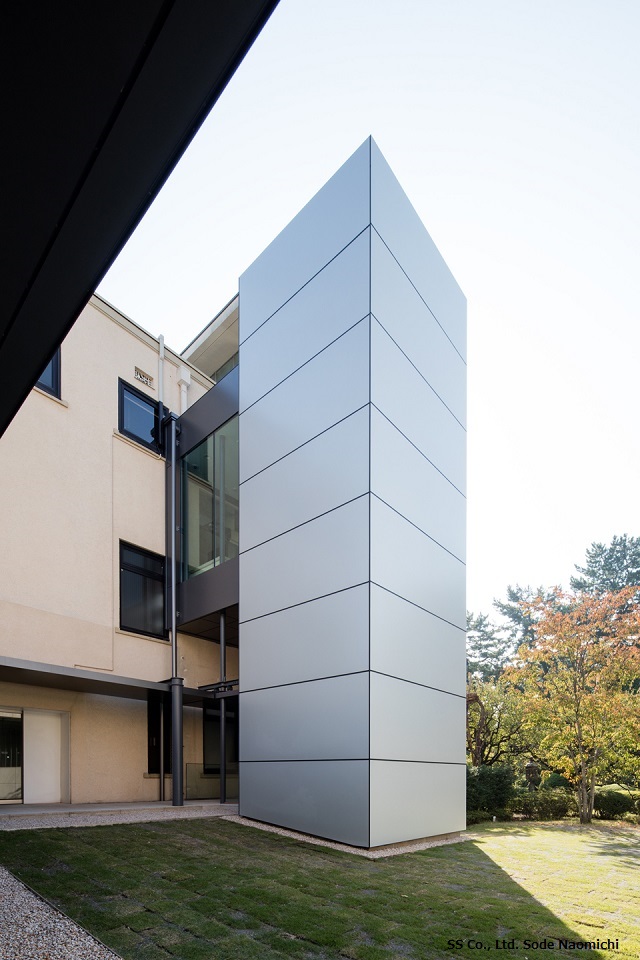 Exterior aluminium panels, that matches the surrounding environment
■An Exterior that Blends into the Scenery
Kikukawa contributed to the metal construction of an elevator expansion project for the Prince Asaka Residence (now the Tokyo Metropolitan Art Museum) in 2015.
The elevator building was placed to strengthen the barrier-free function of the museum. Given that this residence is the first structure to be designated Important Cultural Property by the Tokyo Metropolitan Government, the design and the exterior of the building was required to balance the improved accessibility and convenience and maintain the high-standard physique of the building. In this context, Kikukawa's exterior claddings play an important role in the implementation of the design intent.
■Aluminium Finished with Defined PHL and Silver Anodization
The exterior panels of this elevator building are lined with aluminium finished with defined PHL (permanent hairline, also known as vibration) and silver anodization. Unlike the typical silver anodized panel, the defined PHL grinded finish creates a calm yet chic ambiance that shines under the daylight from the diffused reflections. Unlike the reflections of stainless steel, this finish implements a soft reflection as visualized in the project concept.
■Flat Cut-edge Detailed Panels
The roughly 130㎡ exterior panels are crafted from 3.0mm thick aluminium cut-edge detailed panels. Panels with a standard size of 3240mm width and 1330mm high are installed at one row per side.
Due to this simple design, the panel claddings were required to have high-quality flatness. Despite the rather large size of the panels, Kikukawa quality controlled the entire process from procurement, design, fabrication to installation to ensure the high standards.
■A New Aluminium Finish, Defined PHL + Silver Anodization
The selected finish, defined PHL and silver anodization, was developed specifically for this particular project. To achieve a high-standard project with this new finish, Kikukawa studied and overcame various challenges throughout the process. Our responses and services to the various requirements to the finish led to the establishment of a trusting relationship with the designers. Our consultation expertise showcases our capabilities developed from years of experience with anodized products.
This newly developed finish is also available in other anodizing colours and electrolytic colours. It is also included in our selection of aluminium finishes, which are available from the link below.
Product
Material
Metal Finishes
or
Metalwork
Exterior Panels
Aluminium
D-PHL (Vibration) +
Silver Anodization
| | |
| --- | --- |
| Project | Tokyo Metropolitan Teien Art Museum |
| Abbreviated Name | Tokyo Metropolitan Teien Art Museum, Elevator Tower of the Main Building |
| Client | Tokyo Metropolitan Government |
| Architect | Kume Sekkei Co., Ltd. |
| Contractor | Takatsu Co., Ltd. |
| Completion | 2017 |
| Location | Minato-ward, Tokyo |