August 18, 2022
Lately, many of us are spending more time at home, due to the COVID-19 pandemic. As a result, we have seen an increased tendency for people to be interested in interiors, and have a more refined sense of home aesthetics. This means that a more discerning eye is being turned to the shops and showrooms that sell and showcase interior design products.
Here we introduce the interior fittings of the Sanwa Company's Tokyo Showroom, located in Minami-Aoyama, Tokyo. Rather than putting individual products, such as kitchen units and wash basins, on display, the company has chosen to exhibit items in mocked-up spaces that showcase how they could work together in a home. KIKUKAWA was commissioned to fabricate and install aluminium trims and bronze column panels for the partition walls.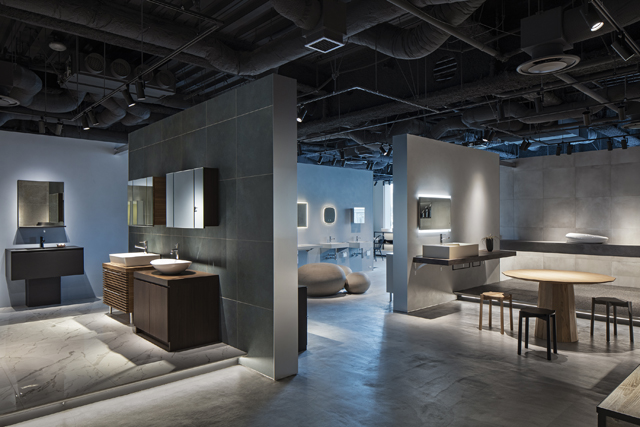 Bright anodized aluminium was used on the finish of the partition walls. This material is a specialty high-shine aluminium, whose quality is created by applying surface treatment for reflectivity-enhancement prior to anodization. It is characterised by the subtle luminosity of aluminium, creating a soft and gentle effect, distinct from the shine of polished stainless steel.
KIKUKAWA's Technologies – Bright Anodized Aluminium Panels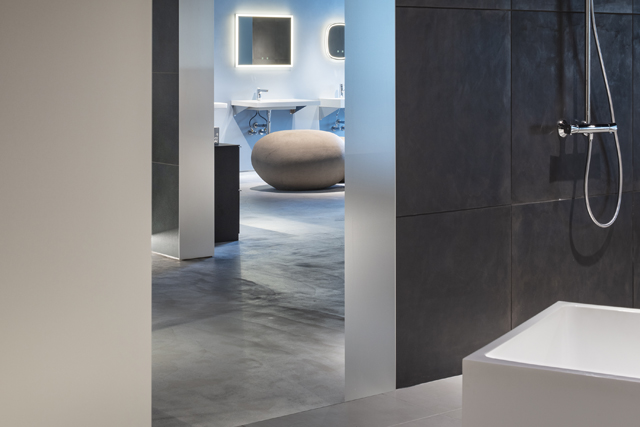 The bright anodized aluminum panels were 3mm thick. Since the panel edge would be read as a 3mm profile, we paid particular attention to the cut surface and finish.
Although the partition trims were narrow, at 2700mm (H) by 250-450mm (W), since 25 panels in total were installed throughout the showroom, together they impart a sense of unity and refinement.
As well as pairing seamlessly with the grey floors and walls, the panels work in harmony with the furniture, which is mostly crafted from natural materials.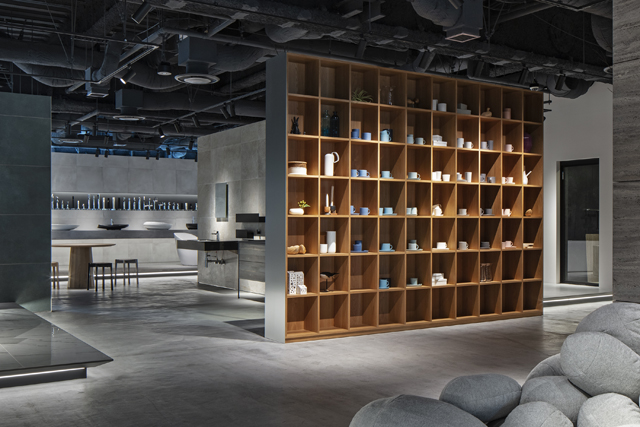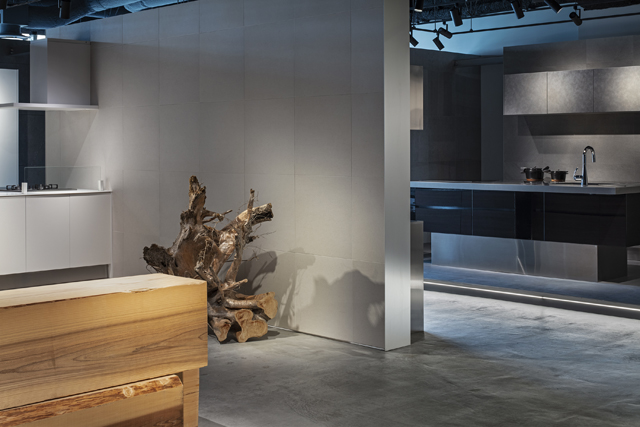 Situated in the same showroom space are bronze column panels, supplied and installed as cut panel. These were fabricated to fit all four sides of the column, which measured 1000mm (W) by 2900mm (H) by 250mm (D). We used a 2mm-thick bronze, to which a permanent hairline / vibration (PHL) finish and a glossy clear lacquer coating were applied.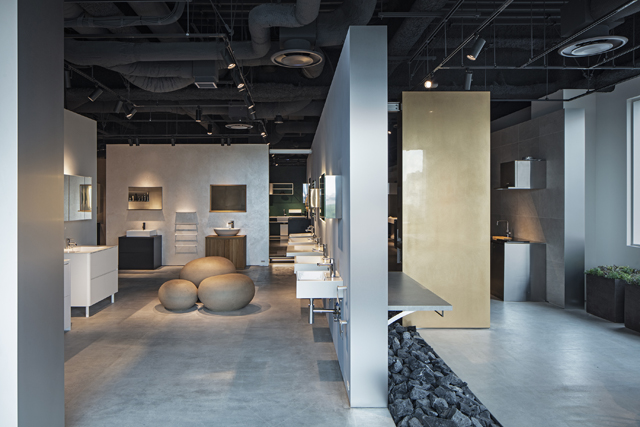 Permanent hairline finish (PHL) gives delicate grind marks to the material surface, resulting in diffuse reflection of light which in turn highlights the natural colouring of the material. Applying a PHL finish to bronze material adds a sense of luxury and sophistication to the showroom space.
Click here to see our line-up of finishes: D-PHL + Glossy Clear Lacquer Coating
In addition to the bright anodized aluminium and bronze used in this project, we offer a diverse line-up of finishes that can contribute to achieving high-end interiors (e.g. Minamo panels, Tsuchime (hammertone) finishes, FURUMI (sulfurised) finishes). Please get in touch to discuss your wishes and requirements for finishing materials for internal and interiors projects.
Design: Tetsuo Yamaji Architects
Photography: Kenta Hasegawa