June 21, 2021
Perforated metal products from KIKUKAWA combine both functionality and design versatility. They can also work as light-shielding louvers, thereby helping to lower the environmental burden. At KIKUKAWA, by bringing together machinery and highly-skilled craftsmanship, we can deliver perforated panels in a vast range of shapes and designs while always maintaining the highest standards of accuracy and quality.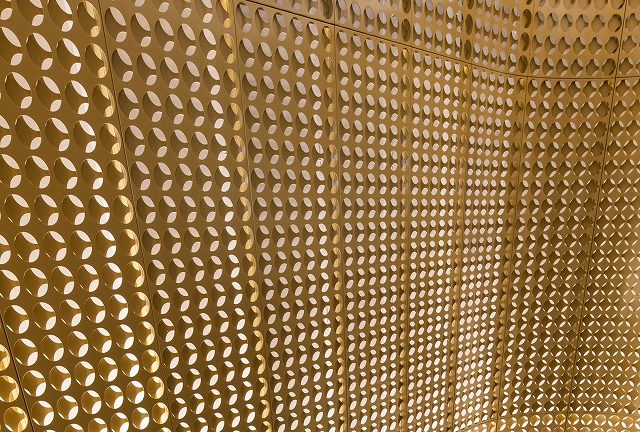 One approach to using perforation in design is to layer up multiple perforated panels to create new patterns. It can be as simple as taking two perforated panels with identical holes and distance and layering them up inexactly, so that the holes are not aligned: this is enough to create a wide range of effects. It isn't just the misalignment of the holes or the distance between the panels that creates this variety; different effects will arise according to the angle at which the layered panels are viewed, too.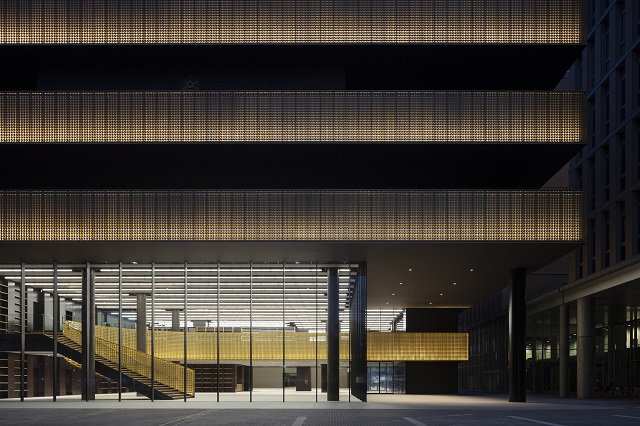 To illustrate this, let's take a look at the Shippo (overlapping circles) patterned panels, created through layered perforation, that were installed in Building 8, the general learning support facility, at Taisho University, a Mahayana Buddhist university. For these panels, circle of 100mm in diameter were punched into panels at a distance of 120mm , and then two panels were layered so that each circle was misaligned by a quarter, both vertically and horizontally. This created the Shippo pattern, which has its origins in Buddhism. Another key feature of the installation was that the Shippo pattern was intended to be illuminated and, as such, the way in which the perforations were superimposed onto the lighting was of crucial importance.
Project Gallery: Click here to see Taisho University, Building 8
The exterior layered perforated panels were created as triple-layer panel units, comprising two layers of 1.6mm steel panels (high corrosion resistant galvanized steel sheets), and a third backing panel. The depth of each unit was 75mm and a 30mm gap was left between the two perforated panels. Each panel had a standard size of W600mm x H2400mm and were finished in a gold polyester powder coating.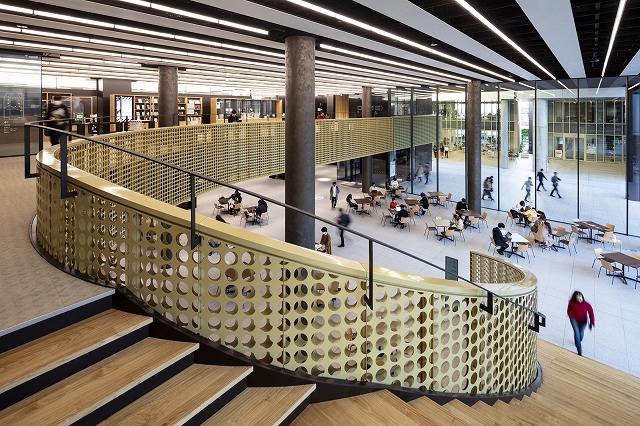 The layered perforated panels for the spiral staircase featured built-in handrail stanchions, while the Shippo pattern was achieved by layering two panels, one inner and one outer. A three-dimensional shape for the spiral staircase was then achieved by curving (R bending) the panels. As this demonstrates, KIKUAWA can achieve curved and three-dimensional shapes, with diverse finishes and fits, such as layered perforated panels.
KIKUKAWA's Technology: click here to find out more about our 3D Processing Technology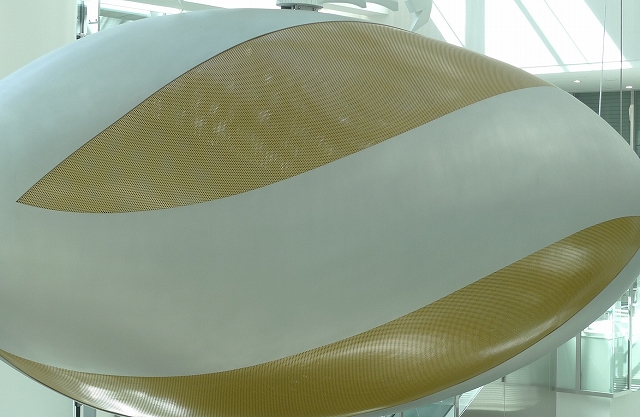 With layered perforated panels, shifting the panels even slightly to misalign the perforations makes it possible to deliberately generate the moiré effect (interference patterns). As the light passes through the overlapping patterns, both of the original perforations and from interference, the patterns are highlighted to stunning effect.
Project Gallery: Click here to see Chukyo University, Nagoya Campus Building No.1 (Library & Academic Hall)
There are unlimited possibilities to achieve your ideas and designs through metal perforating techniques. KIKUKAWA is committed to working closely with our clients and realizing their designs and dreams by utilizing KIKUKAWA's highest standards of technologies and expertise.
KIKUKAWA's Technology: click here to find out more about our Perforating Technology