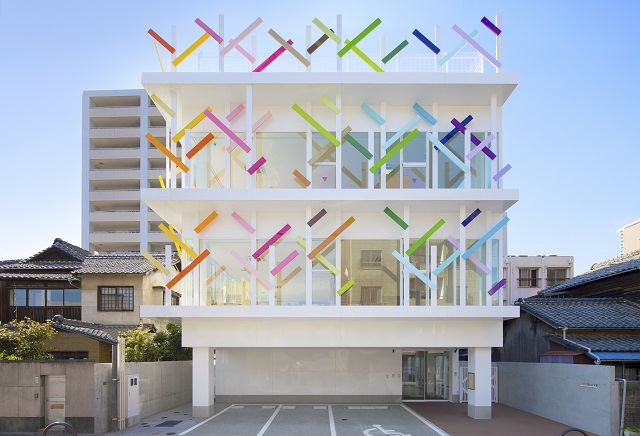 The vivid facade, 'colourful grove'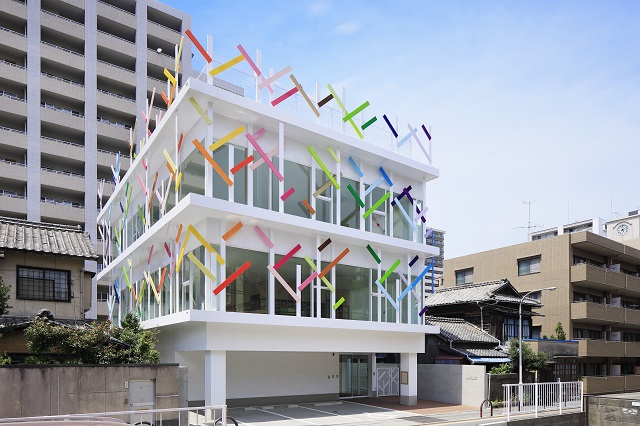 Twenty-three bespoke fluororesin baked coating with high gloss clear coating implement the vivid design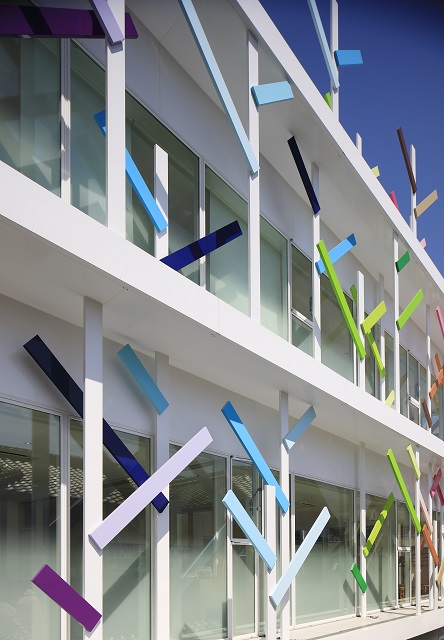 The metal trees and branches crafted from aluminium
■A Colourful Façade
Creche Ropponmatsu is a kindergarten that was built in the residential area of Fukuoka city. Kikukawa participated in the metal construction of this unique colourful façade.
To implement an open design, the white glass-walled building is wrapped in trees with 63 colourful branches. It is designed so that colours can be seen wherever the children may be to nurture creativity and imagination. The colourful branches also act as screens to provide children with the necessary privacy.
■Colourful Grove as the Concept
The concept of the building is a 'colourful grove'; twenty-two bespoke colours are used to paint the branches that grow from the white trunks. The twenty-two colour line-up is composed by combining three to four varying shades of the selected base colours. Each branch is finished with fluororesin baked coating and high gloss clear coating to implement the vivid design.
To craft the perfect shade for each of the 23 colours (including white), Kikukawa worked attentively to craft the various colour samples and in controlling the quality in fabrication, paint coating, and installation. Due to these measures, the installed products were highly regarded.
■The Metal 'Tree'
The metal 'tree' trunk stretches up to 4m in height and has 2 main branches that are 750mm to 2200mm. The trunk and the branches are crafted from 2.0mm thick aluminium sheets, metal worked into 40mm by 190mm rectangular pipes. The precision of the products was ensured by Kikukawa's know-how and expertise demonstrated through processes such as strength and weight calculations during design reviews, and fabrication of backing frames planned to ensure flatness and straight butt joints.
Concerns regarding the swaying of the 'tree' in the wind were addressed and resolved by conducting mock-up inspections externally, and by sharing the collected data with the general contractors and designers.
■The Designer's Obsession with Colours
Emmanuelle Moureaux placed her thoughts in the design of this kindergarten, 'to nurture children's individuality and creativity by living, being in close contact and surrounded with colours'.
Because Kikukawa has collaborated closely with the designer in various projects, our team was able to understand and respond to her design intent. Our trusted partnership has led to becoming the appointed metal construction expert for this project, and we are honoured to be given the opportunity.
Other Kikukawa metal projects designed by Emmanuelle Moureaux
Kikukawa's Project Gallery – Sugamo Shinkin Bank, Tokiwadai Branch
Kikukawa's Project Gallery – Sugamo Shinkin Bank, Shimura Branch
Product
Material
Metal Finishes
or
Metalwork
Design Facade
"tree + branch"
Aluminium
Fluororesin Coating
(Full Gloss Clear Coating)
| | |
| --- | --- |
| Project | Kindergarten, Creche Ropponmatsu |
| Abbreviated Name | Creche Ropponmatsu |
| Client | Social Welfare Corporation Kusagae En |
| Architect | emmanuelle moureaux INC. |
| Contractor | Umebayashi Corporation |
| Completion | 2017 |
| Location | Fukuoka, Japan |