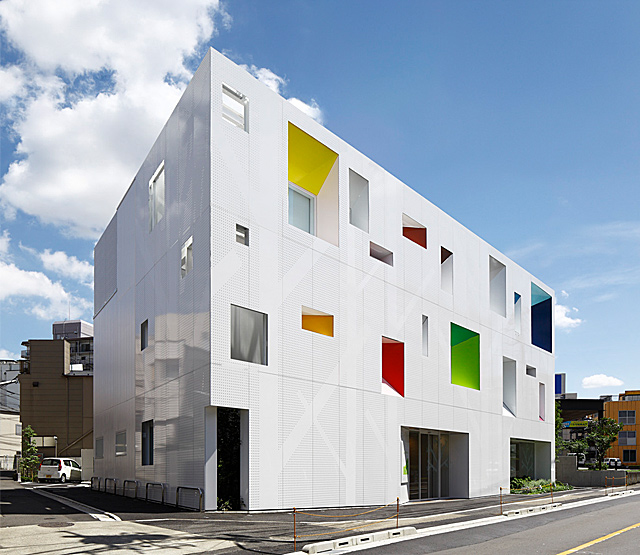 Thick perforated aluminium panels as a facade with a tree silhouette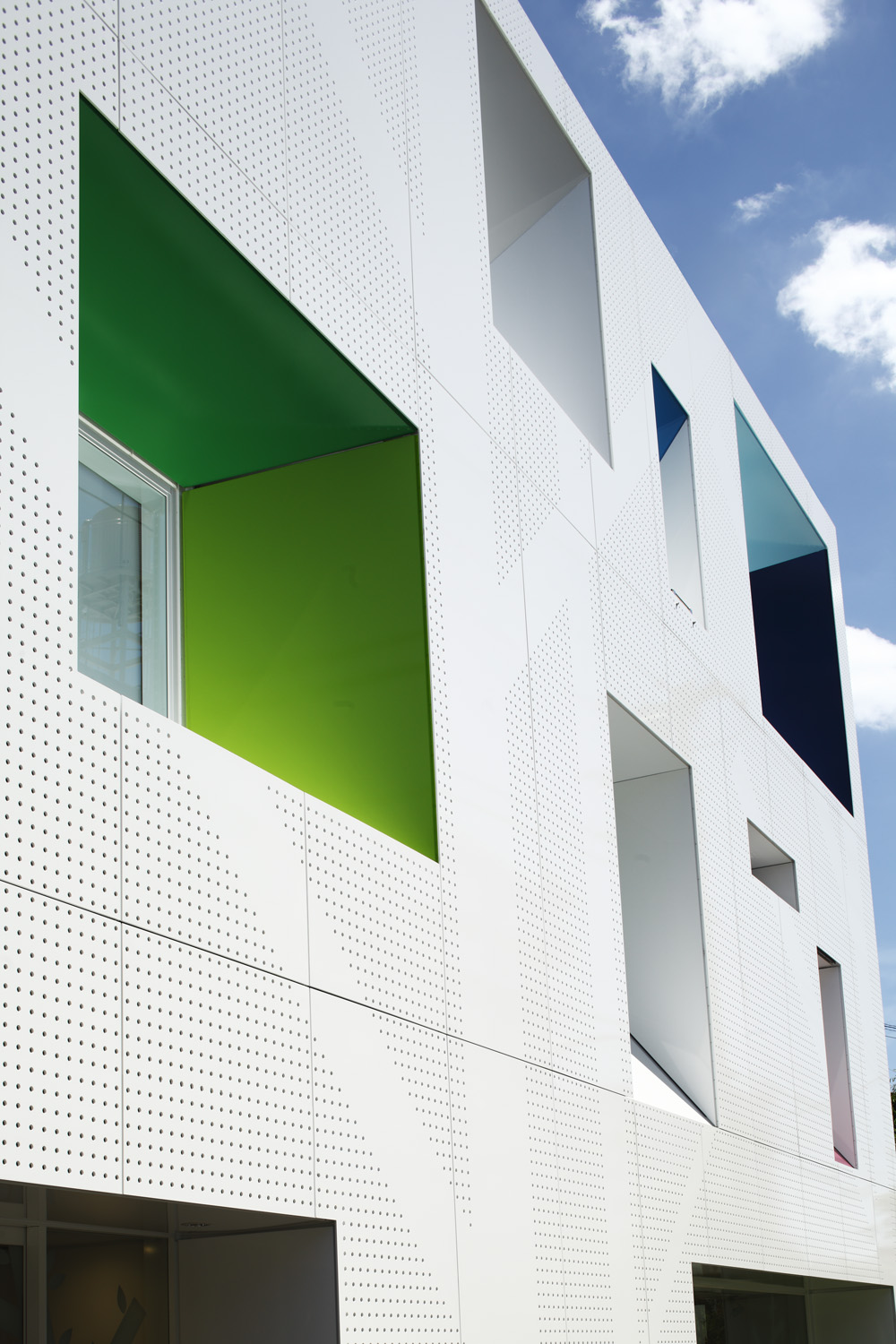 Thick aluminium panels create a sharp edge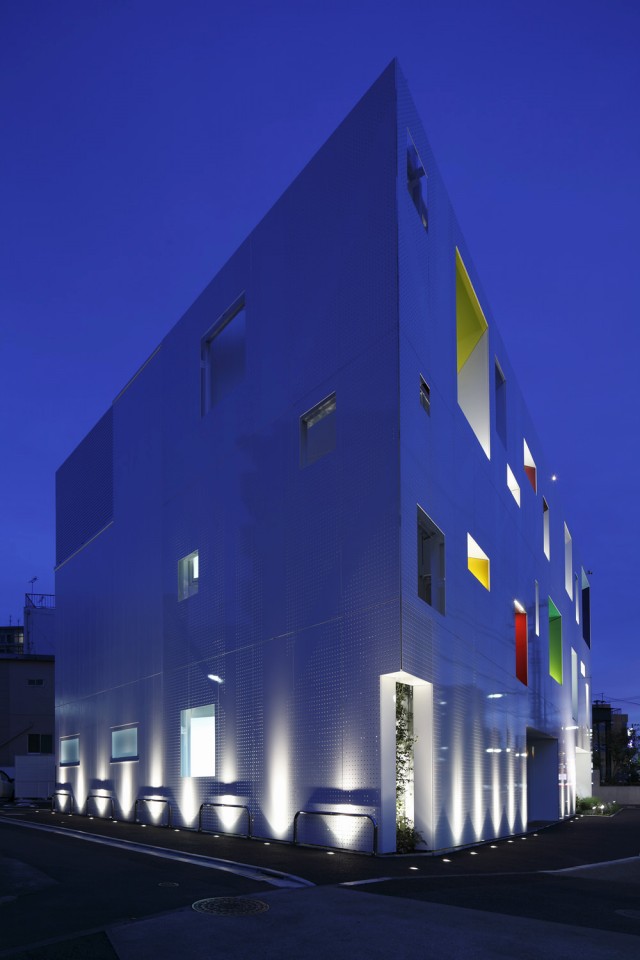 The branch at night
■A Building with a Concept
Sugamo Shinkin Bank aspires to be a 'hospitality bank' through its motto, 'finding joy in satisfying customers'. Based on this concept, the Tokiwadai branch is designed to implement a space that is so comfortable that 'visitors would want to stay as long as possible.'
Emmanuelle Moureaux, the designer and architect for this project, was entrusted with this mission and envisioned a building with the concept, 'leaf'. The 'leaf' aims to create a space that evokes a feeling of nature and refresh the visitors.
Kikukawa's façade works contributed to the implementation of this design and concept. The resulting façade is a unique landscape; the exterior panels are stylish and colourful, yet feels familiar and warm.
■Kikukawa's Past Achievements in Perforating Thick Aluminium
Emmanuelle Moureaux contacted Kikukawa when she found out that our team fabricated a façade for a brand retail store in Ginza. This particular façade provides a sharp presence by utilizing thick materials, and it makes a pattern stand out by adjusting the perforation details.
This case served as a great study for the 'leaf' concept, as the façade was patterned with a silhouette of a tree, and was designed to be a signboard or the face of the bank.
To respond to the designer's expectations and requests, Kikukawa's team provided metal construction expertise from detailed designs, fabrication to installation.
Click here to learn more about Kikukawa's perforation technology
■Perforating Thick Aluminium
The façade is crafted from large 10mm thick aluminium panels with typical dimensions of 1.4m by 4m.
While each of these panels is perforated, it is impossible to penetrate 10mm thick aluminium with the typical perforating machinery. Therefore, every 20mm holes were metal worked with endmills one by one. This prevented saggy openings and resulted in the creation of a sharp physique.
Due to the thickness of the aluminium, reinforcement frames are required at the back which is carefully laid out so that they are not visible from the perforated holes. These carefully thought out details contribute to the implementation of the design concept.
■Committing to the Colours
Emmanuelle places great importance on colours, as she considers it a spatial principle. Because of this, she made an extraordinary commitment to colours.
While the perforated exterior panels are painted white, as a unifying colour with other bank branches, panels lining the openings are finished with 14 different colours with high gloss.
To achieve the perfect shade, over 4 times as many colour samples were fabricated to test the resulting colour and verify with the designer. Due to these efforts, our team was able to create the requested shade and craft the façade that implements the design intent.
■Building a Partnership
Since this collaboration, Kikukawa has been blessed with more opportunities to work with the designer on other projects, such as the Shimura Branch of the same Sugamo Shinkin Bank.
It was an honour for Kikukawa to be able to participate and collaborate in a successful project that displays our metal construction expertise and craftsmanship from design to installation, ability to balance design and quality, and commitment to the design.
Click here to find out more about Sugamo Shinkin Bank, Shimura Branch
Product
Material
Metal Finishes
or
Metalwork
Perforated Facade Panels
Thick Aluminium (10.0mm)
Thick Metal Sheet Perforation
Fluororesin Baked Coating (Full Gloss, Double-sided)
Cut-edge Detailed Panels for Openings
Aluminium (3mm)
Fluororesin Baked Coating (Full Gloss, Double-sided)
| | |
| --- | --- |
| Project | Sugamo Shinkin Bank, Tokiwadai Branch |
| Client | Sugamo Shinkin Bank |
| Architect | emmanuelle moureaux INC. |
| Contractor | Watanabe Kensetsu Co., Ltd. |
| Completion | 2010 |
| Location | Itabashi-ward, Tokyo |