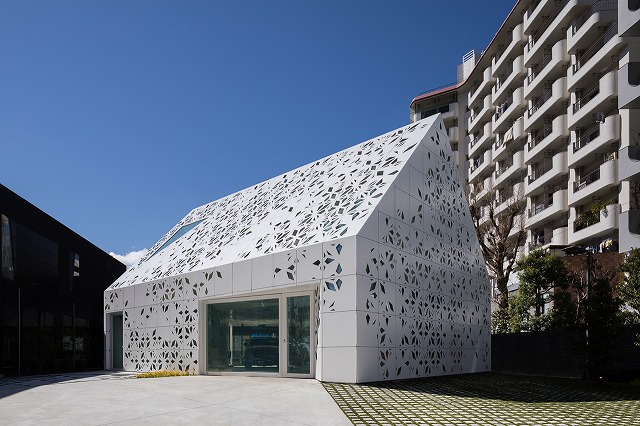 Panels with varying perforation designs cover the exterior of EQ House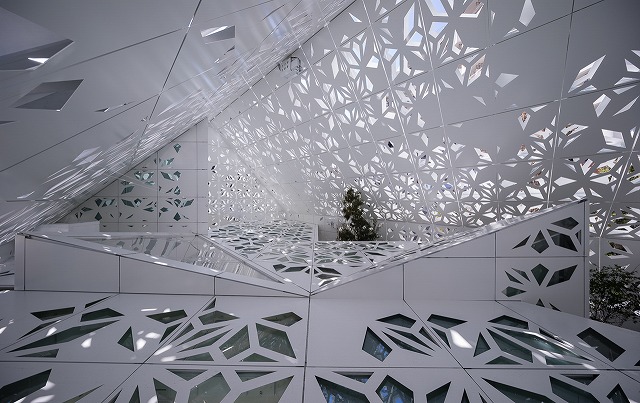 With glass in between the perforated panels, the cladding allows sunlight into the installation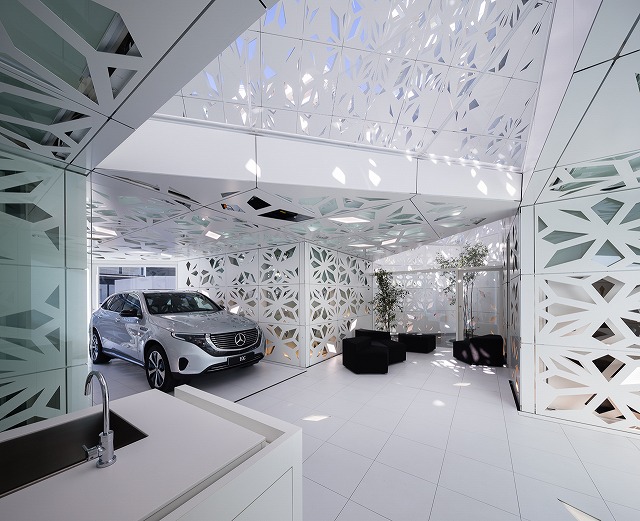 The interior of the installation
■A Project of Cutting-edge Design and Technology
Kikukawa participated in the aluminium façade construction of 'EQ House', a facility in Roppongi, Tokyo, that proposes a futuristic lifestyle of mobility and living.
This house is a result of a collaboration between Mercedes-Benz, and Takenaka Corporation, one of the largest construction firms within Japan, and is situated next to the 'Mercedes me Tokyo', a Mercedes-Benz' brand information centre.
The facility was designed and installed by Takenaka Corporation, and Kikukawa participated in this project as an architectural metalworking company that could provide solutions to the cutting-edge requirements of this project.
■Designing with 3D Data
'EQ House' consists of 1200 designed panels that form the roof, façade, walls, and ceiling; 1400 panels if the perimeters or other panels are included. The design and placement of the designed panels are optimized by simulating the natural lighting condition of the building throughout the year. Thus, over 90% of the panels' shape and patterns have a differently designed cut-out.
The above is simply one example of the latest technology used to design, fabricate, and complete this project. Thus Kikukawa's accommodations of the latest technology including 3D CAD and BIM were essential in actualizing these panels. While the accommodations of the software remain as an industry-wide discussed subject, Kikukawa quickly adopted these technologies to respond to our customers. Within this project, all design communications from drawings to approval were achieved with Rhinoceros, a 3D-CAD software.
To find out more about Kikukawa's design consultation and software accommodations, click here
■Accommodating the Short Delivery Time
'EQ House' was planned to be constructed in half a year, while a project of this size typically takes a few years.
In order to respond to this plan, Kikukawa proactively utilized its abilities as a comprehensive solution provider from design, fabrication to installation. Our proactive approach, such as in providing detailed designs from the early planning stages, 3D-CAD design accommodations, the conversion of 3D CAD data to metalworking NC data, the reduction of drawing and fabrication lead-time by working together, was essential in this quick turnaround.
■Precise Implementation of the Details
The façade panels are 3.0mm thick aluminium with cut-edge details, with randomly placed laser cut-outs of triangles and trapezoids. The typical details of the panels are 850mm squares for wall panels, 1200mm squares for ceiling panels, all painted white with urethane resin baked coating.
The depth requirement was 65mm thick in total for the panel, backing frames, glazing bead, glass frames, and substructure, given the glass fitted detail at the back. These tight requirements and details were challenging for our fabrication and installation, yet our precision and QC control know-how allowed its implementation.
To find out more about Kikukawa's perforating technology, click here
■Experiencing the Next Generation Craftsmanship
'EQ House' is a cutting-edge project that proposes a futuristic lifestyle of mobility and living; this forward-looking concept was applied in its construction. The experimental efforts include the usage of 3D CAD and BIM, power-assisted suits or MR (Mixed Reality) assisted installation using head-mount display.
This pioneering project was a challenge for Kikukawa, one that honed and required the full usage of our metalworking expertise.
*A movie of EQ House by Takenaka Corporation. Kikukawa's factory and craftsmen appear around 5:30min.
https://www.takenaka.co.jp/eq_house/index.html
Product
Material
Metal Finishes
or
Metalwork
Design Cladding Panel
Aluminium (3.0mm)
Design Perforations
Urethane resin baked paint (both sides)
| | |
| --- | --- |
| Project | EQ House |
| Abbreviated Name | EQ House |
| Architect | Takenaka Corporation |
| Contractor | Takenaka Corporation |
| Completion | 2019 |
| Location | Minato-ward, Tokyo |