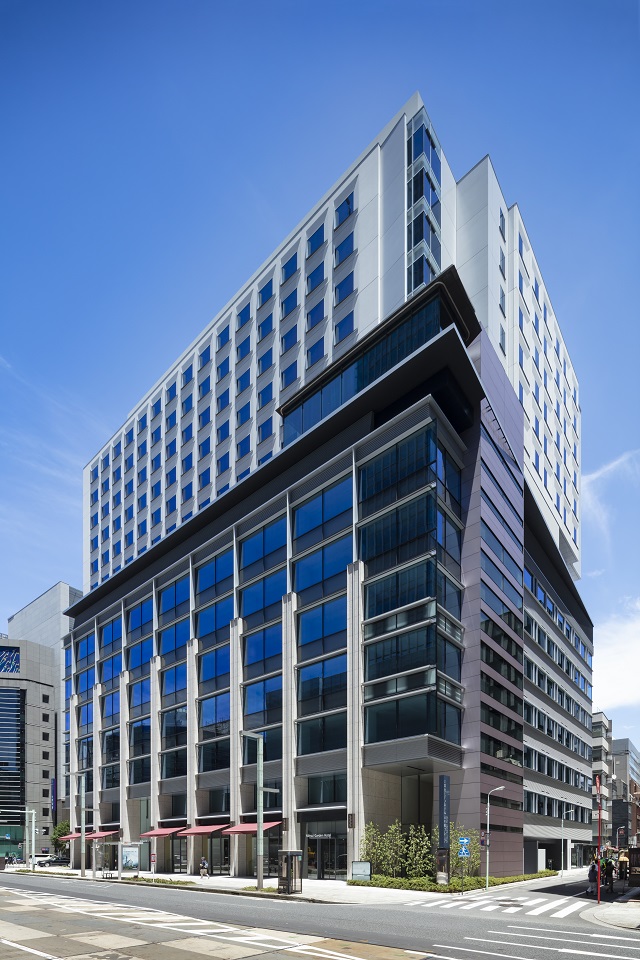 Right: Exterior of the elevator shaft is covered in reddish silver metallic painted aluminium panels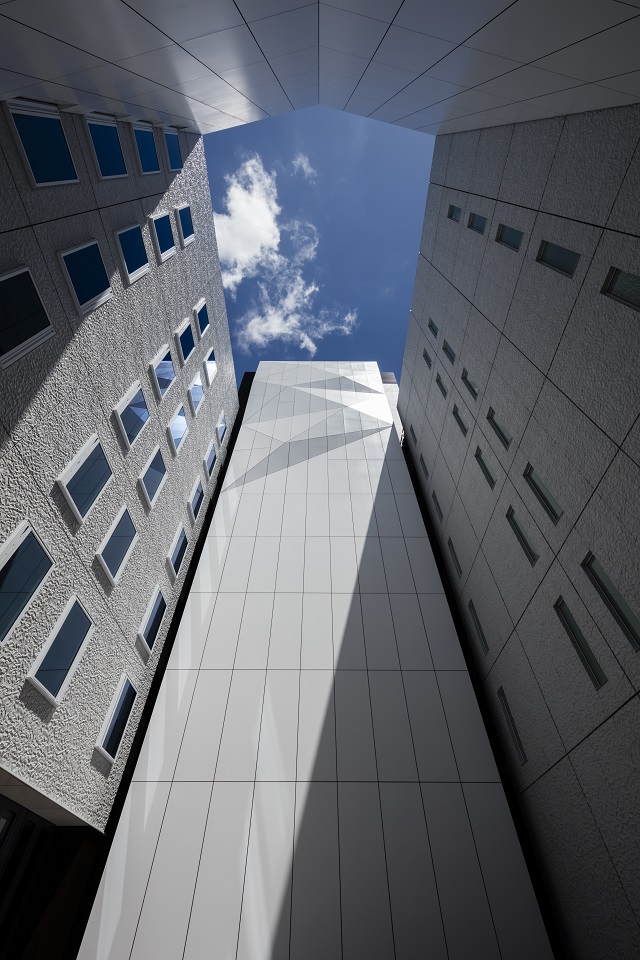 The aluminium panels visible from the courtyard. The Origami-style panels towards the top is monumental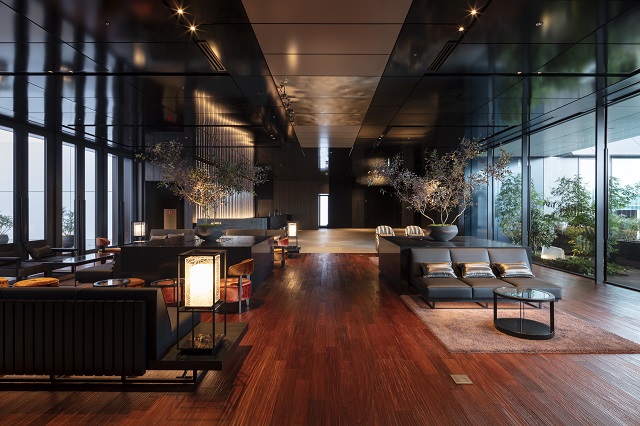 The panels in the front lobby. The stainless steel embossed panels and the aluminium panels (in two colours) fill the ceiling
The metal panels used in this building are creative and monumental. As a building that connects two major stations within Tokyo, Mitsukoshi-mae station and Shin-Nihonbashi station, this building is an important development within the Nihonbashi area regeneration project.
Key figures and points from the project:
-The design of the mirror polished stainless steel panels are based on 3D data.
-The 2mm thick exterior aluminium panels on the elevator shaft are roughly 700mm(H) x 4000mm(W).
-The aluminium panels visible from the courtyard are 3.0mm thick aluminium, roughly 3150mm(H) x 1150mm(W). The Origami style triangular shapes are made from 4~9 variously sized and shaped panels.
Product
Material
Metal Finishes
or
Metalwork
Elevator Shaft, Exterior Cut Panel
Aluminium
Fluroresin Baking Coating (Colour: Metallic)
Courtyard, Open Ceiling Space. Exterior Cut Panel
Aluminium
Fluroresin Baking Coating
Hotel, Front Lobby
Ceiling Panel
Embossed Panel: Stainless Steel
Cut Panel: Aluminium
Stainless Steel: Mirror Finish + Emboss
Aluminium: Acrylic Resin Baking Coating (Gloss Level: 70%)
| | |
| --- | --- |
| Project | OVOL Nihonbashi Building |
| Abbreviated Name | OVOL Nihonbashi Building |
| Client | JAPAN PULP AND PAPER COMPANY LIMITED |
| Architect | Takenaka Corporation |
| Contractor | Takenaka Corporation |
| Completion | 2018 |
| Location | Chuo-ward, Tokyo |