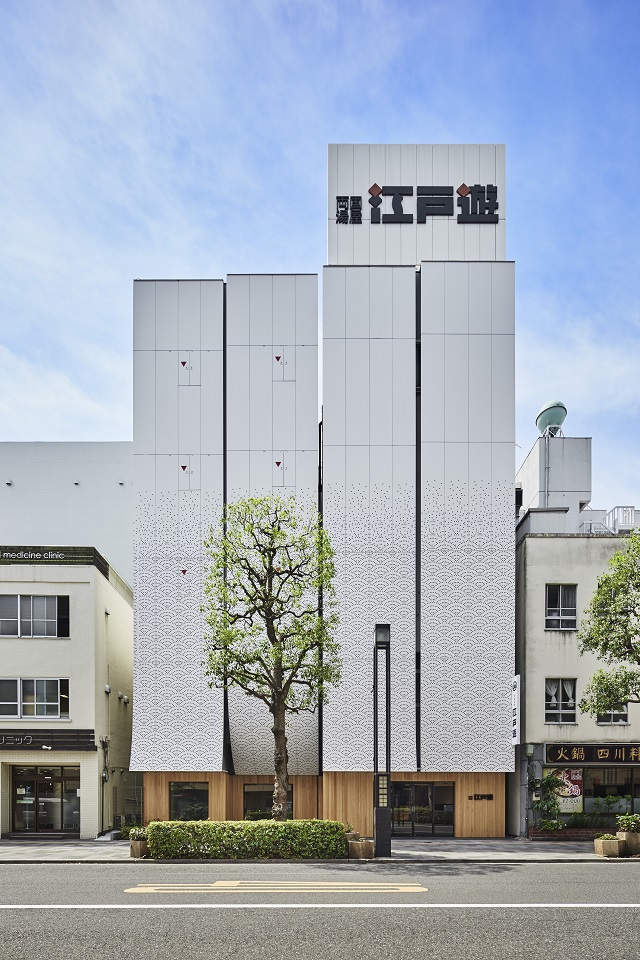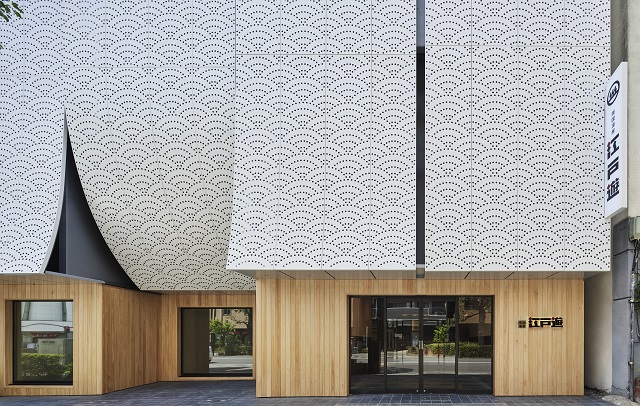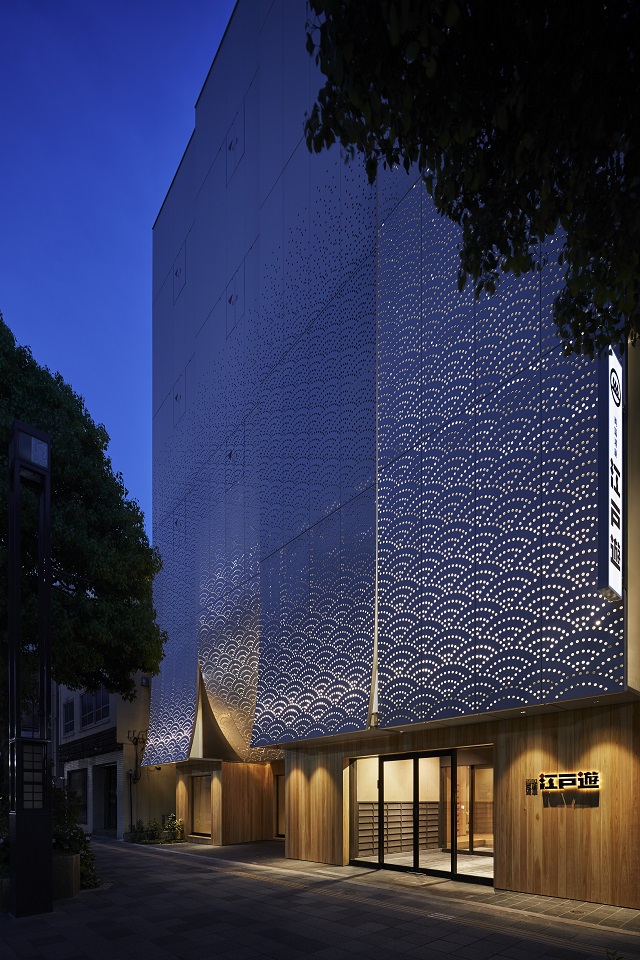 ■A Metallic Shop Curtain
On the Hokusai-street that stretches from Ryogoku station stands an onsen (hot spring) Spa, Edoyu (also known as Ryogoku Yuya Edoyu) that underwent a refurbishment and expansion construction project after 20 years of establishment.
The refurbishment aims to create a more welcoming space for various guests, in light of the area's increased tourism since the completion of Sumida Hokusai Museum.
Kikukawa participated in the project through the construction of aluminium façade – a design emulating a shop curtain that embodies the welcoming spirit of the spa.
Click here to read more on Kikukawa and Sumida Hokusai Museum
■Bespoke Perforations and Curvatures
Our involvement in the project began when the designer consulted Kikukawa on the feasibility of a white curtain façade covering the existing and expanded face of the building. The design intent was a metal façade that emulates a shop curtain with seigaiha* (wave-patterned) Edo komon** fluttering in the wind.
Kikukawa proposed various options for the metal construction that meets the requirements of the design in perforations and curvatures and the limitations in the budget. By doing so, Kikukawa was chosen as a collaborative partner to provide the bespoken aluminium panels.
*Seigaiha: Literally translates to 'blue sea and waves'. Partial circles are lapped over alternately to create a wave-like pattern.
**Edo Komon: A style of stencil dying developed in Muromachi period (1336-1573), adapted in the Edo period to accommodate fine pattern on kimonos to get around the sumptuary laws at the time.
■Perforating Waves
The 270㎡ façade composed of 3.0mm thick aluminium perforated with φ30mm circles to create the wave pattern of seigaiha. The perforations lessen towards the top into a flat panel, while the bottom half is curved to create the fluttering curtain effect.
The typical size of the panels is 870mm (W) by 4000mm (H), painted with high resistance polyester coating of white-tinted grey. From the left, the panels curve 4400mm outwards, 1700mm inwards, and 270mm outwards. The bottom eave soffit panels are finished with silver-white fluororesin baked coating.
Click here to find out more about Kikukawa's perforating technology
■Implementing Designs: Thin Joints
In order to create an integrated façade, the four columns of façade panels are designed with 5mm thin joints. To implement this, the panels are equipped with installation systems such as hooking details that take advantage of the perforations.
There was a great diversity in subframes required for installation due to the variance between the panels and the structure, and the fluttering curtain design. Given this, and the requirement to devise a system that would minimize metal scraps onsite, Kikukawa's assembling team carefully and precisely planted the blind nut details.
■Lighting Up the Metallic Curtain
Lightboxes are installed at the bottom of the exterior façade to light up the facility at night.
The curved and perforated façade contributes to the creation of a modern Japanese space – an emerging landmark in this history-laden district.
Product
Material
Metal Finishes
or
Metalwork
Exterior
Design Perforated Panels
Aluminium
Design Perforations
High weather resistance polyester powder coating
Bottom Facade
Eave Soffit
Aluminium
Fluroresin baked coating
Project
Ryogoku Yuya Edoyu
Client
Toshin Aqua Co., Ltd.
Construction Manager: AXS SATOW INC.
Architect
Kubo Tsushima Architects
Contractor
Matsui Kensetsu K.K.
Completion
2019
Location
Sumida-ku, Tokyo