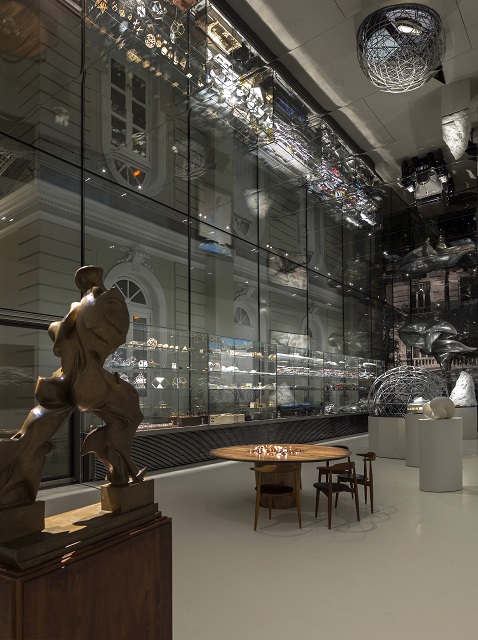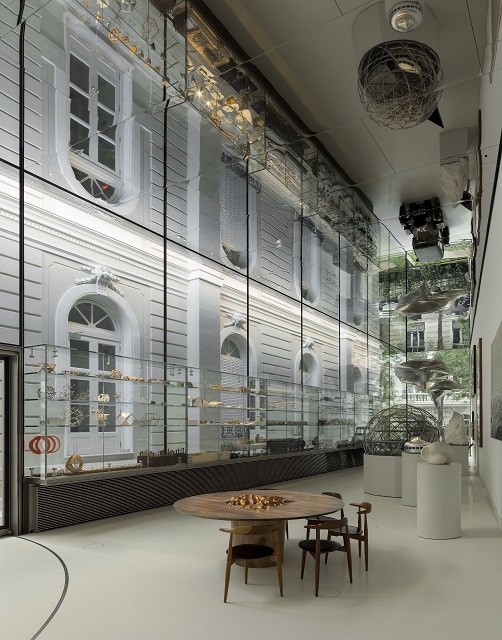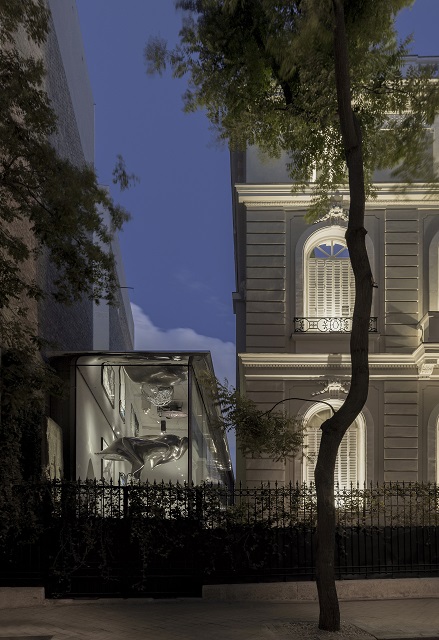 ■Norman Foster Foundation's Pavilion
Nestled in the courtyard of Norman Foster Foundation's headquarters in Madrid is a Pavilion that opened in the summer of 2017 to display objects and visual materials that have inspired Lord Foster and his work.
The spatial concept required a high quality mirror polished ceiling to create an ethereal space for the artworks that are enhanced with bespoke spotlights.
As an integral part of realising the design concept, Lord Foster entrusted KIKUKAWA as the consultant and fabricator of the bespoke mirror polished stainless steel panels.
Find out more about Lord Norman Foster and KIKUKAWA:
News: Visit by Lord Norman Foster
■KIKUKAWA's Contributions
Mirror polished stainless steel is said to be one of the most unforgiving finishes and the width of the panels, 1435mm, added to the challenge. Other technical challenges included 2mm joints between the panels, bent panel edges with a consistent mirror polished surface and access panels without visible keyholes.
With this in mind, KIKUKAWA rose to the challenge by utilising its know-how and craftsmanship while working closely with the Foundation's designers and the general contractor to address each and every requirement to satisfy the design intent.
Our designers proposed 2.0mm thick stainless steel panels with honeycomb backing to meet the strict flatness requirements. They devised a new locking system for the access panels (patent pending in Japan) that removed the need for additional joints or visible keyholes. Our experienced craftsmen oversaw the procurement and cutting of the highest quality material, while our metalworkers carefully polished the edges of the bent panels for a consistent finish.
Precise installation was also necessary to realise a flawless reflection. Our team offered installation demonstrations during the mock-up stage, provided detailed installation instructions to site and sent an advisor on site to ensure a smooth installation process.
Product
Material
Metal Finishes
or
Metalwork
Ceiling Panels
Stainless Steel
Mirror Finish
Project
The Pavilion
Client
Norman Foster Foundation
Architect
Norman Foster Foundation
Contractor
Empty SL
BAUobras SL
Completion
2017
Location
Madrid, Spain