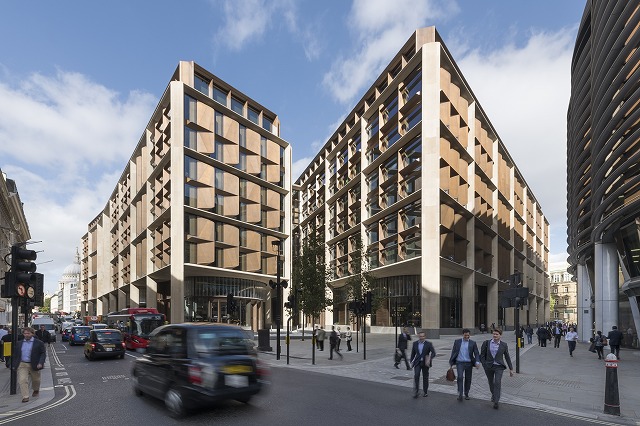 Bloomberg London, with an eye-catching bronze exterior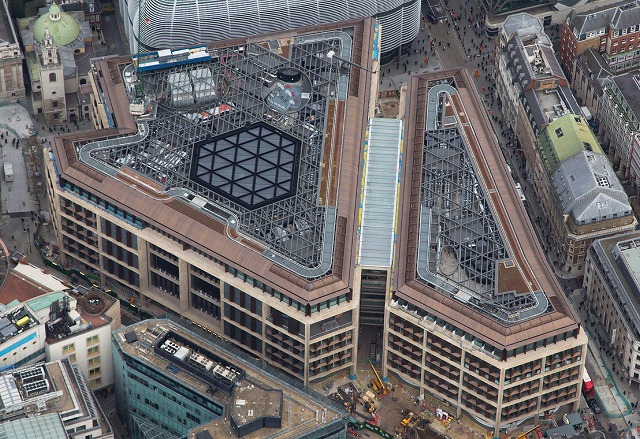 Birds-eye view of Bloomberg London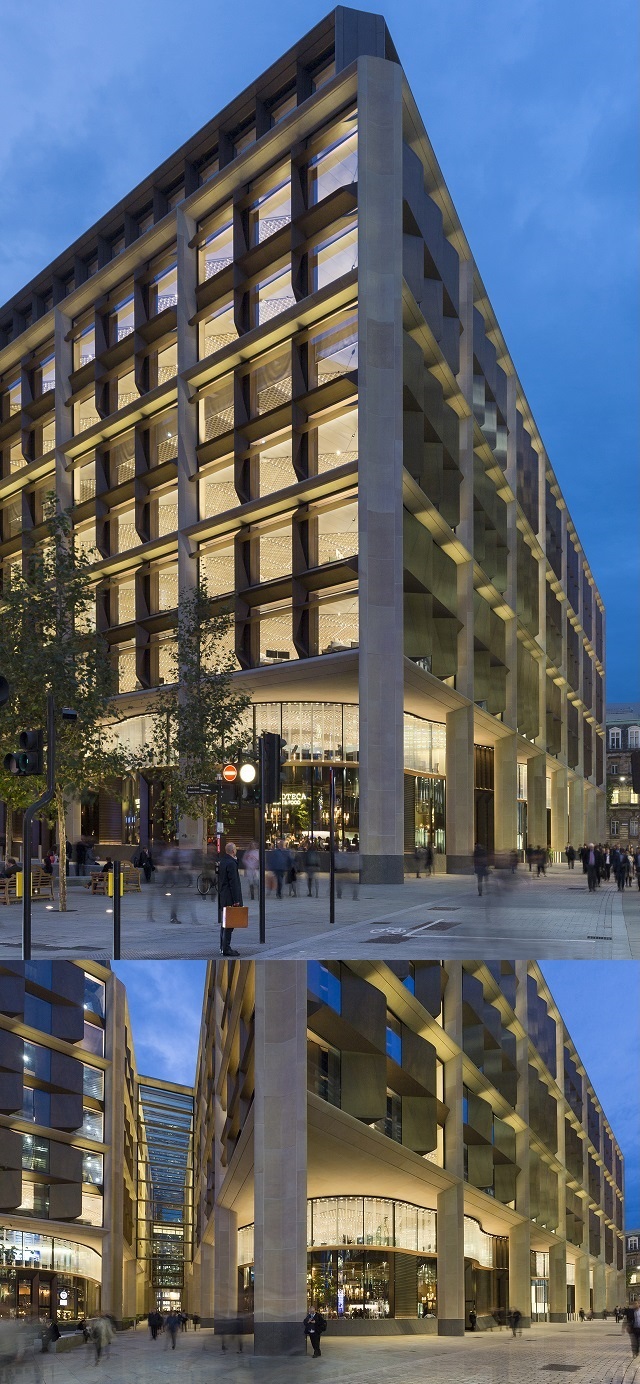 The facade in the night
■The Largest Bronze Construction in Kikukawa's History
In the heart of London stands the new European Headquarters of Bloomberg LP, the American financial, software, data and media giant. Situated between the Bank of England and St. Paul's Cathedral, the 3.2acres (roughly 13000㎡) site is home to two buildings and an arcade, representative of the ancient Roman road that once ran through the site.
Designed by Foster + Partners, the building is highly regarded for its sustainable development, with a BREEAM Outstanding rating, as well as its design that pays homage to the site's historical context.
Kikukawa's bronze constructions were essential to implementing the design. The interior / exterior bronze panels amount to 43,000㎡ (roughly 700tons) of bronze, the largest bronze construction in Kikukawa's history.
These bronze panels fully showcase Kikukawa's technology and craftsmanship, such as the FURUMI (sulfurization) finish and welding.
■Kikukawa Bronze
The story began when Kikukawa's bronze finish was specified in Foster + Partners' drawings. This was two years after Kikukawa approached Foster + Partners with its sample books.
Various difficulties were overcome before Kikukawa was selected as the provider. For instance, the client initially planned to source its materials within Europe, thus the cost and time required to ship the bronze panels were a hindrance. Kikukawa worked closely with the architects to decide the details; from sample fabrication and mockups to VE (value engineering) plans based on our expertise from past bronze constructions, to preparing the fabrication line with the latest technology and taking environmental initiatives to align with the clients' views. These efforts and Kikukawa's commitment to fabricating high-quality products were highly regarded by the client and architects, who selected Kikukawa as the provider of nearly all of the bronze constructions for this project.
Click here to view Kikukawa's bronze sample finish line-up
■Adopting and Utilizing New Technologies and Machinery
Many of the bronze products have complex curvatures and shapes, requiring expertise in metalcraft. From the design stage, fabrication to the shipment, Kikukawa adopted new methodologies, technologies, and machinery to better implement the design concept and details.
These are some examples of Kikukawa's detailed response to the client or architects' requirements. All of the drawings were drawn with 3D-CADs. FSW (friction stir welding) was introduced to source metal sheets well over the sizes of market available metal sheets. Fiber laser welding machine was chosen to craft the hypotrochoid ramp or facades with complex curvatures. New methodologies such as stretch forming, or honeycomb backing curved panels were developed and solidified. The large amount of FURUMI (sulfurized) finish led to the organization of a new sulfurization finish line. In line with the green philosophy of the project, Kikukawa proposed and implemented the use of steel crates that were quality controlled from design to shipment.
Click here to find out more about Kikukawa's technology
Click here to learn more about Kikukawa's double curving technology
Click here to find out more about FSW (Friction Stir Welding) technology
Click here to learn more about fiber laser welding technology
■Kikukawa's FURUMI (Sulfurized) Finish
The selected finish for this project is FURUMI (sulfurization), with hairline (HL) grinding marks and acrylic silicone clear coating.
FURUMI (sulfurization) is a technique that creates the rich brown hues of aged bronze by hand. The effects of this sulfurization process are highly dependent on ambient conditions such as the weather or humidity as well as the chemical composition or the lot of the material. In other words, this is a finish of art as well as science, and one that requires expertise in quality control.
For this project, Kikukawa adopted a specialized tool* to ensure the control of the finish colours. This quality control methodology was incorporated into the bronze finishing fabrication line before manufacturing began.
To quality control the finishing process, Kikukawa fabricated specialized stands (trestles) to stabilize each panel, as most of them were uniquely shaped.
*Specialized Tool: A tool that measures the RGB (red, green, blue) of the surface. A colour is defined when the shades of these colours are selected by a unit between 0 and 255.
Click here to find out more about FURUMI (sulfurization) finish
■Recyclable Steel Crates and Long Distance Shipments
In line with the client's green philosophy, Kikukawa proposed and used the recyclable steel crates instead of wood.
The large scale shipment of a distance in this length was a new challenge for us. In collaboration with the steel crate fabricator, the product shape, quantity, and installation were considered to design 600 patterns of crates and shipped in 2300 cases.
In order to ensure the crating and shipment of the various dual-curved products, the crating plans were created in 3D CAD. By doing so, the crating plans and the process of planning the crates and shipment were optimized.
Click here to find out more about Kikukawa's accommodations of BIM and 3D CAD
■The Tradition of Crafting Metal
Bloomberg London became one of Kikukawa's defining project that showcases our philosophy, commitment, technology, and craftsmanship through close collaboration with the client, architect and general contractors. Our work was highly regarded by Lord Norman Foster who sees that our products are a result of a fusion between skilled craftsmanship and cutting-edge technology. His understanding of our work can be seen through his signed book 'Building with History' and his handwritten message, 'for your great tradition of crafting metal'.
It was a true pleasure for Kikukawa to be able to participate in this multi-award-winning project. Our expertise and technology gained from this project will shape our future tomorrow.
Click here to find out more about Kikukawa and Lord Norman Foster (Lord Foster's visitation to the Kikukawa factory)
To find out more about the Bloomberg London project (external link)
Bloomberg featured on Archdaily
Bloomberg feature on Architecture Today
Videos by Bloomberg to document the process of building the new headquarters (external link)
The Facade of Bloomberg's London Building: It's All in the Details (Kikukawa makes an appearance around 4:00)
Workplace of the Future: London (Kikukawa appears around 5:30)
To find out more about the awards won by Bloomberg London (internal link on 2018 RIBA Stirling Prize)
To find out more about the awards won by Bloomberg London (external link, 'Bloomberg London Building' by Bloomberg)
To find out more about Kikukawa's involvement with Bloomberg London (internal link)
-The Hypotrochoid Ramp of Bloomberg London
-The Exterior Fins of Bloomberg London
-The Panels lining the Arcade at Bloomberg London
Product
Material
Metal Finishes
or
Metalwork
Bronze cladding:
Exterior Fin
Roof Cladding
Bronze Panels on the Ground Floor
Bronze Panels lining the Arcade
Hypotrochoid Ramp (Balustrade)
Bronze
HL+FURUMI (sulfurized) finish
FSW
Fiber Laser Welding
3D Processing Technology
Stretch Bending
Honeycombed Curved Panel
Project
Bloomberg London, European Headquarters
Abbreviated Name
Bloomberg's European headquarters
Client
Bloomberg L.P.
Architect
Foster + Partners
Contractor
Main Contractor:Sir Robert McAlpine Ltd.
Facade Contractor:Josef Gartner
Completion
2017
Location
London, U.K.