April 5, 2022
As the world faces increasingly serious environmental challenges, including global warming and air pollution, it's clear that many clients are making choices about building materials based on how those materials can help to reduce their environmental footprint. Here, we introduce some of KIKUKAWA's leading eco and sustainable metal building materials and paints.
■Sun-shielding louvres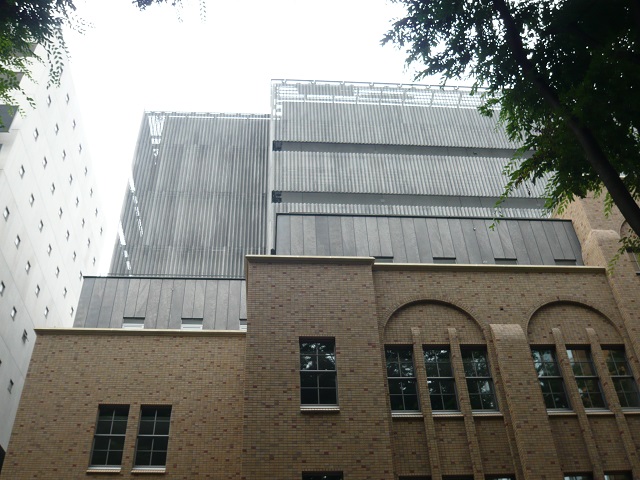 Rather than internally fitted blinds and curtains, louvres installed on the exterior of a building are more effective in shielding sunlight. By shading the building from direct sunlight, they prevent the interior building temperature from rising too high, thereby reducing the need for air conditioning and contributing to CO2 reduction and a lower energy footprint.
Project Gallery: The Faculty of Engineering of the University of Tokyo
■Expanded metal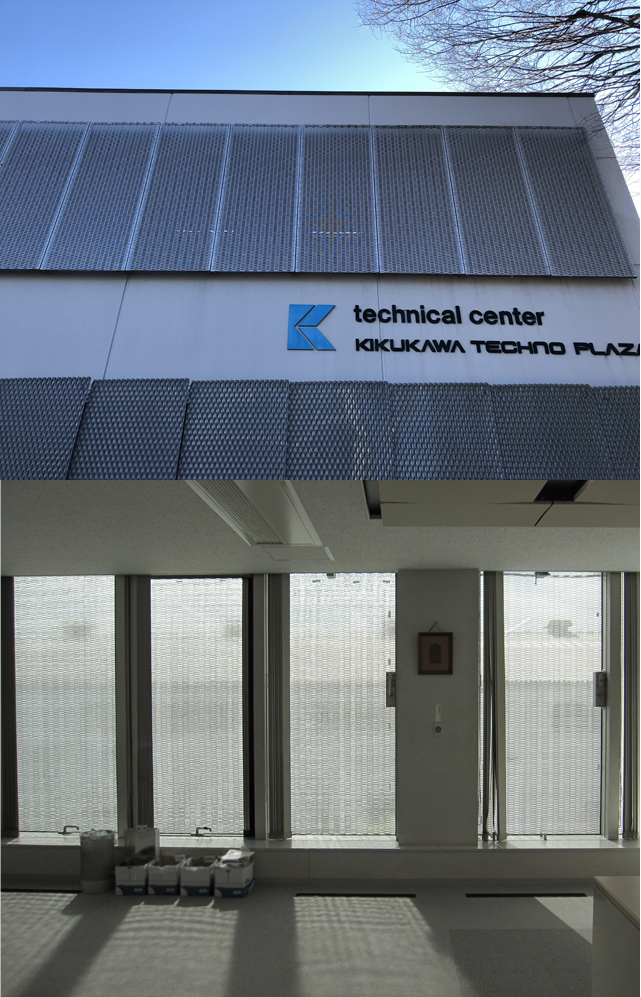 Expanded metal is formed by stretching out cuts made in metal sheets, meaning there is none of the loss or scrap that arises with punching. The area of the processed material is also greater than that of the original material, which has led in recent years to considerable interest in expanded metal as an eco-friendly material.
KIKUKAWA's technologies – Expand Metal Louvers
■Powder coatings
Powder coating is a process in which static electricity is used to spray finely ground pigment onto the target surface. The powder is then heat-cured to form a coating. This technique helps to reduce the burden on both the environment and workers in the following ways:
● Mitigates air pollution: does not contain organic solvents, in the form of volatile organic compounds (VOC), which are the cause of photochemical smog
● Reduces loss: has a high adhesion rate in comparison to organic solvents
● Protects the health of workers applying the coating: contains no VOCs, which are the cause of sick building syndrome.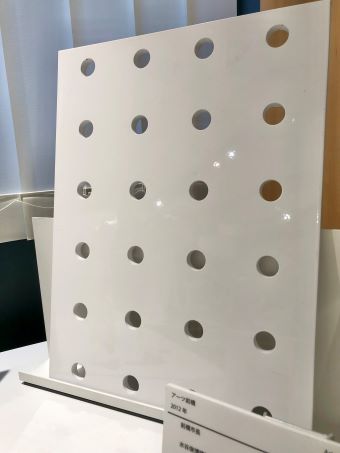 Project Gallery: Arts Maebashi
We recommend powder coatings to finish both punched and expanded metal louvres. With standard paint coatings, it can be difficult for the paint to reach all of the holes in punched panels, or cuts in expanded metal. Powder coating, however, ensures that the paint adheres consistently across all parts, leaving a thick and even coating. In addition, our high weather resistance polyester powder coating is considered equivalent in performance to our fluororesin coating, and is regularly used to finish exterior materials.
Project Gallery: Search by Finishes: Powder Paint Coating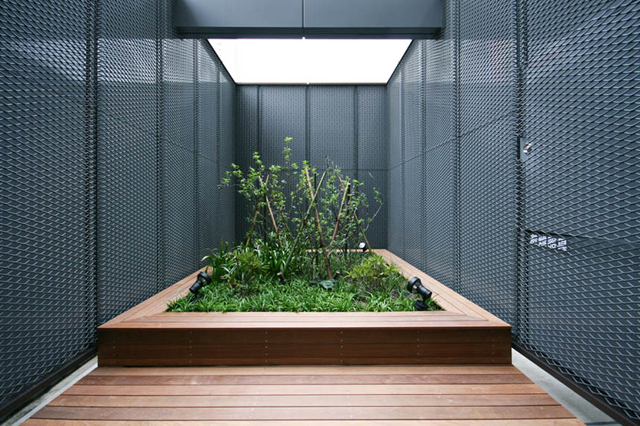 ■Materials
During machining, to minimise material loss, we use machining programs to cut out all parts from metal sheets. During manufacturing, we recycle everything we use, from small scrap (metal shavings) to metal building materials which are being removed from a site as they are no longer required.
We have also taken part in a project to upcycle aluminium materials as decoration for commercial spaces. Through this project, aluminium retrieved from 700 series Tokaido Shinkansen cars was reborn as eaves designed to resembled noren (traditional fabric curtains), and installed in Tokyo Gift Palette, a shopping mall inside Tokyo Station. See the link below for more details.
News: Release: Bullet Train Upcycled as Interior Decorations for a Mall, Tokyo Gift Palette
We are also developing a range of other eco building products, including solar LED street lights and solar power generation equipment. Please get in touch if you are interested in choosing eco and sustainable building materials.