Bespoke perforated large gate. Both curved and flat surfaces are perforated to implement the translucent design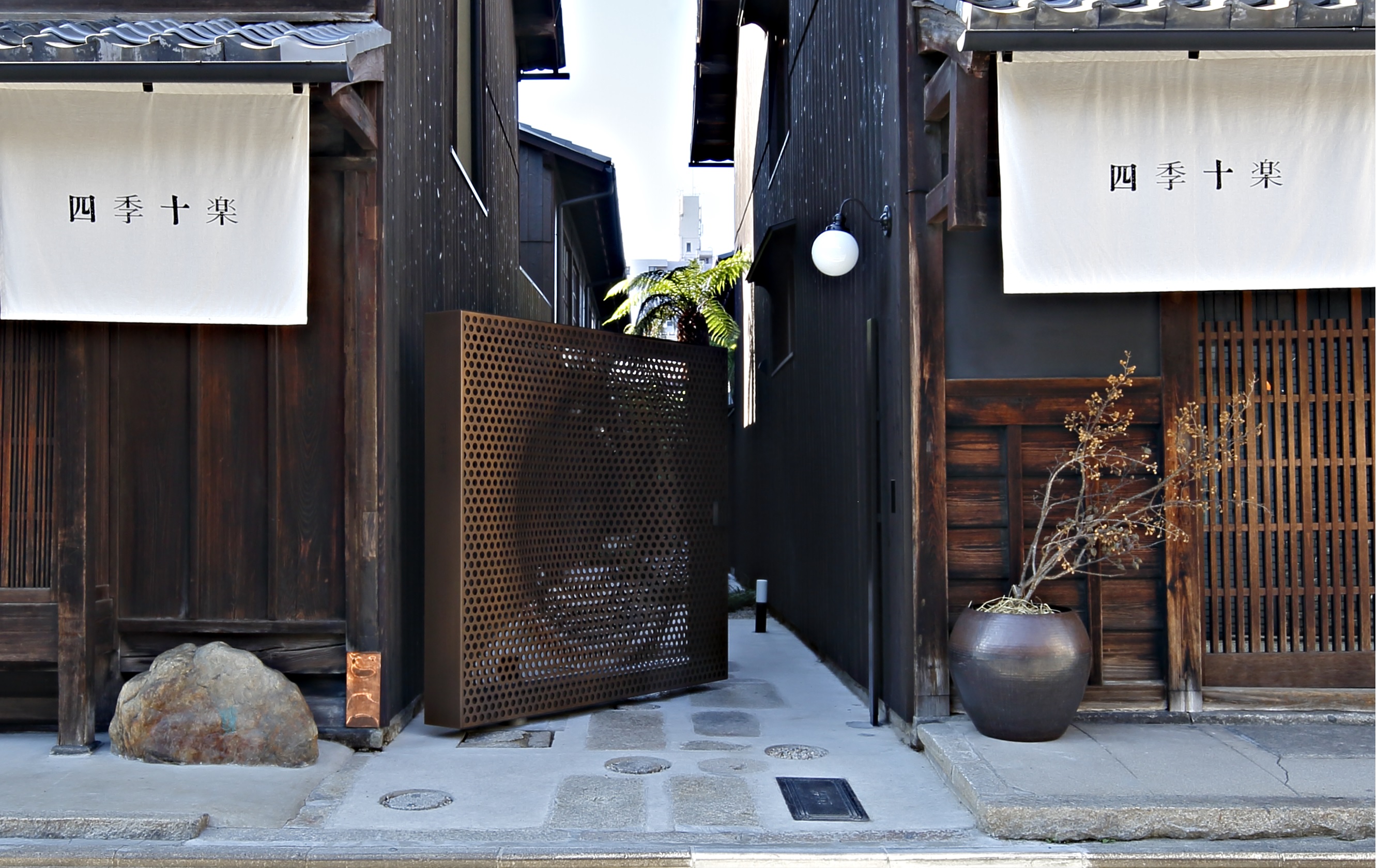 The hairline and FURUMI (sulfurized) bronze blends into Kyoto's traditional scenery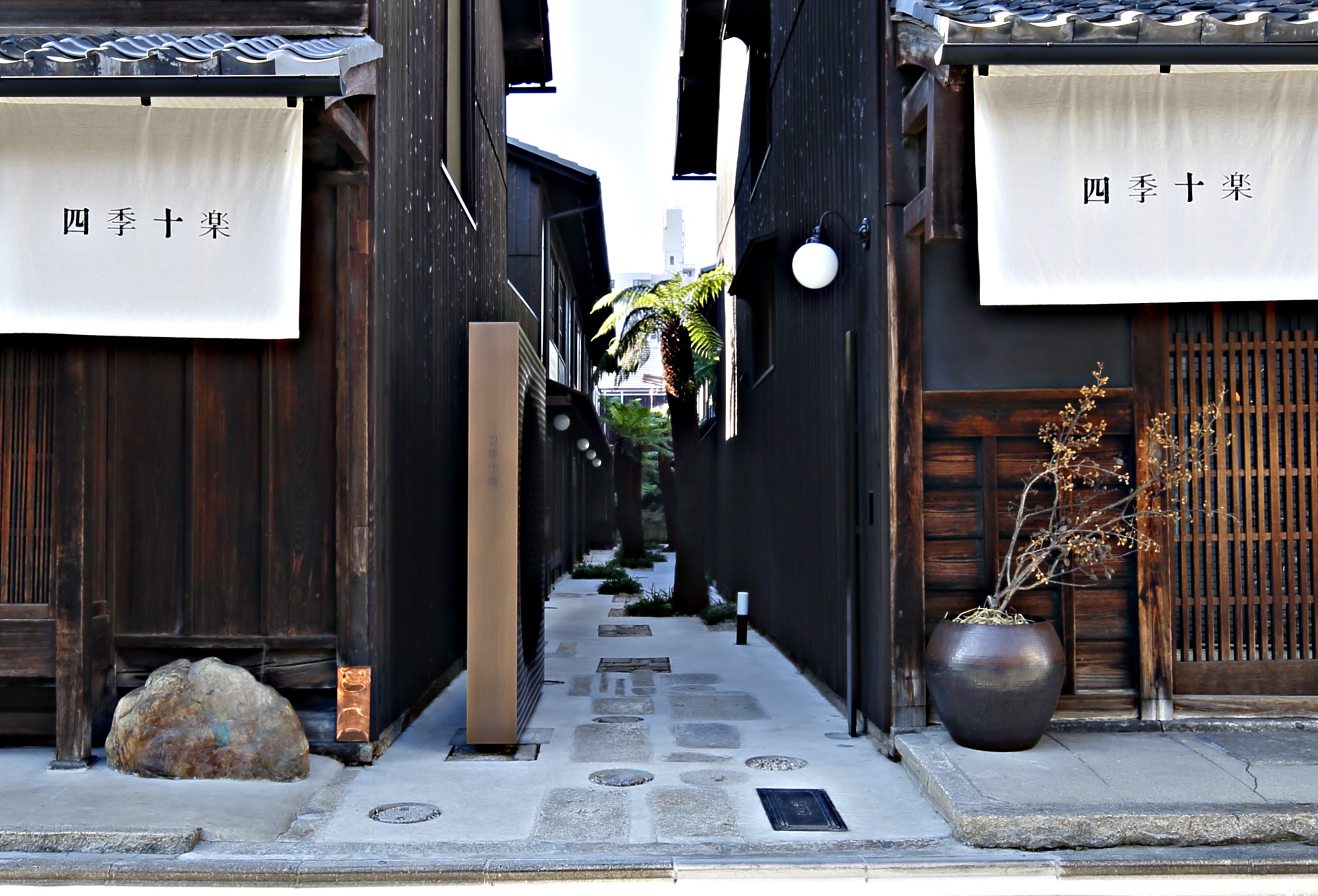 The gate is unique with an incrementally formed curvature
■Scenery of Kyoto
At the west of Kyoto Imperial Palace, ten Machiya (housing) built over 100 years was renovated into a hotel, 'Shiki Juraku' (directly translates to four seasons ten pleasures). Kikukawa participated in the project as a sub-contractor for its gate.
The project is designed by ten talents based on the concept, 'to create ten pleasures (Juraku) with ten talents.' The bronze gate is designed by Tsuyoshi Tane, a global designer based in Paris, who participated as one of the ten experts. The design concept of the gate combines the function as a partition, the gate (Mon, in Japanese), and as a symbolic crest for new memories (crest also reads Mon in Japanese).
■A Unique Presence that Blends into its Surroundings
The designed gate guards the alley that leads to each Machiya guest housing. To cover the alley, the gate is 2065mm wide and 1785mm tall.
At the centre of the gate facing the street is a mortar-shaped concave curvature of 1500mm diameter and 206mm depth, carefully perforated to create a welcoming and translucent space to embody the crest = gate (in Japanese, Mon = Mon) concept. This unique gate is crafted from bronze sheets finished with hairline and FURUMI (sulfurization) to further the luxurious and stately atmosphere of its surroundings.
Click here to learn more about Kikukawa's FURUMI (sulfurization) finish
■Combining Cutting-edge Technology and Craftsmanship
The surface of the bronze gate exceeds the size of the market-available bronze sheets. Therefore, Kikukawa laser-welded two bronze sheets to craft a minimally distorted large material. The dual curvature of the concave shape was applied with incremental forming, a dieless metalworking process.
The gates are perforated with roughly 2200 holes on each side of 30mm diameter. To ensure the consistency of the shape of these circular perforations for both flat and curved surfaces, Kikukawa's craftsmanship and expertise were essential.
To implement the translucent design, a bespoke structure was adopted. The structural column is only at the bottom and is crafted by machined stainless steel.
Click here to learn more about Kikukawa's fibre laser welding technology
Click here to learn more about Kikukawa's dual curving technology
Click here to learn more about Kikukawa's incremental forming technology
Click here to learn more about Kikukawa's perforation technology
■Providing a Comprehensive Solution
Shiki Juraku was the first project that utilized Kikukawa's new OSS (One Stop Solution) system that provides comprehensive solutions and management services from design to installation. In addition to our typical metal construction services, Kikukawa also provided the foundation construction for the structural column, and the wooden (Zelkoba) handle for the gate.
By collaborating closely with the designer and using our proprietary technologies and services, Kikukawa was able to craft and install a unique gate that is faithful to its design intent in one month. This optimized lead-time and our high-quality services were highly regarded by the client and has furthered our expertise.
Product
Material
Metal Finishes
or
Metalwork
Design Gate
Copper Alloy (Bronze)
HL + FURUMI (Sulfurized) Finish
Laser Welding
Incremental Forming
Curved Perforations
| | |
| --- | --- |
| Project | Shiki Juraku, Bespoke Gate |
| Client | Hase Hotel Systems CO., Ltd. |
| Architect | Atelier Tsuyoshi Tane Architects |
| Contractor | Kikukawa Kogyo CO., Ltd. |
| Completion | 2016 |
| Location | Kamigyo-ward, Kyoto |