November 25, 2019
Four new brochures on Kikukawa's metalworking technology has been released.
The brochures cover FSW (Friction Stir Welding), fibre laser welding, incremental forming, and 8m bender. Each technology was introduced on our corporate website, however, were made into a brochure in light of requests to view them offline.
The full-colour brochures present a quick overview of the technology, workable dimensions, pictures of samples and projects implemented.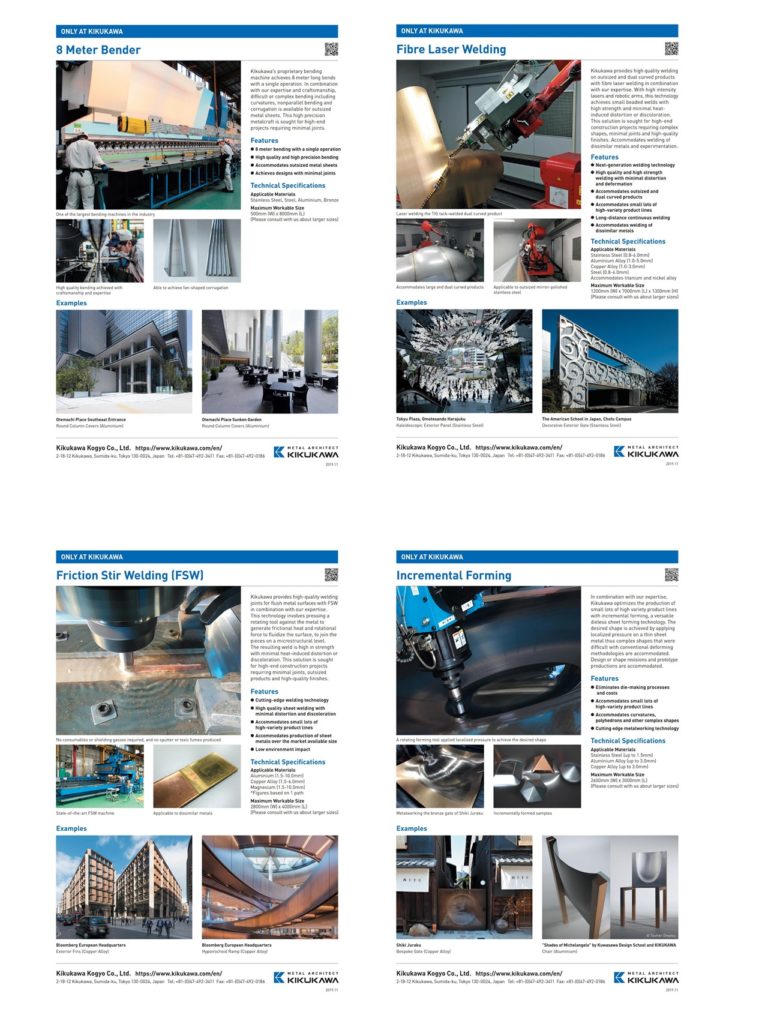 The metalworking technology covered are rare in architectural metalcraft; some are still under research to further the technology.
【FSW (Friction Stir Welding)】
One of the latest technologies to join flat pieces of metal using frictional heat and mechanical mixing process. The resulting joint has high weld strength and minimal heat affected distortion or discoloration.

Click here to view the new brochure
Click here to read more on FSW (friction stir welding)
【Fibre Laser Welding】
Using the latest robotics and welding technology, high-quality welding with high strength and minimal distortion and discoloration. Suitable for long-distance welding, curved and complex welding.

Click here to view the new brochure
Click here to read more on the fibre laser welding
【Incremental Forming】
A dieless metalworking methodology that accommodates complex shapes, and small lots of high variety product line. Accommodates testing and sample fabrications.

Click here to view the new brochure
Click here to read more on incremental forming

【8m Bender】
One of the largest bending machines in the industry implements high-quality long bends up-to 8000mm. Accommodates simple bends to complex bends such as corrugation and tapered bends.

Click here to view the new brochure
Click here to read more on 8m bender
Please do not hesitate to contact us for more information on each metalworking technology.
Click here to contact us