January 6, 2022
In recent years, the construction industry in Japan has seen an increasing use of wooden building materials. While it is true that an interior space designed with only wooden materials will result in a very natural-looking environment, it is possible, through the incorporation of metal finishes, to bring touches of luxury and refinement.
Still, even if a client decides to introduce elements of metal into their interiors, the question remains of how best to match the inherent warmth of wood with metal, a material so often seen as cold, even severe. Here, we introduce a number of metal finishes that can work in harmony with wood-tone interiors by walking you through some previous interior projects featuring a range of metals, including aluminium, steel, and bronze.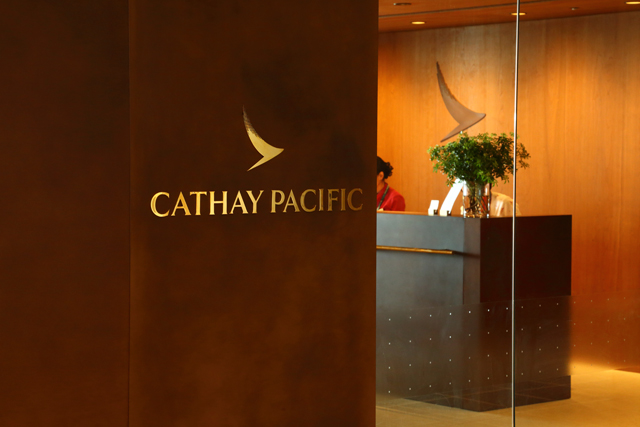 This is the Cathay Pacific Lounge at Tokyo Haneda Airport. The entrance wall panel and the reception desk are both finished in what we call FURUMI (meaning "antique"). The FURUMI finish is realized by the marriage of a traditional metal treatment technique and an original method developed by KIKUKAWA.
The look and texture of the end result is dependent on the base materials used and, for example, the weather conditions at the time the finish is applied. This is comparable to the way that no two pieces of wood will have the same pattern of grain running through them. The characteristic tonal effect brings depth and a sense of calm to interior spaces.
The logotype and logomark on the wall panel are finished in polished brass, giving them a golden shine which brings a palpable sense of luxury to the entrance.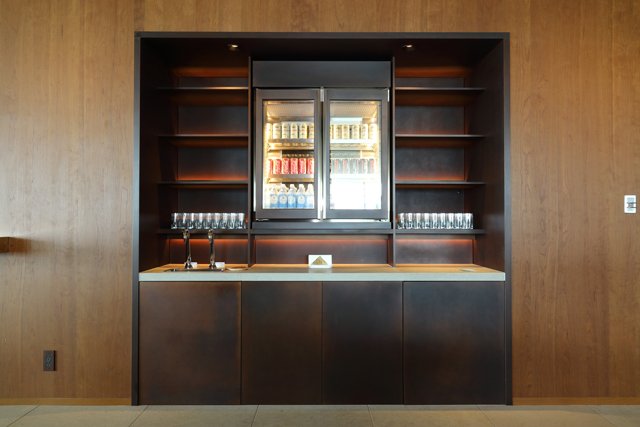 The serving counter is also finished in FURUMI. By applying indirect lighting, the reddish tone of the closely illuminated counter gradually fades into black. It has a subtle feel that works perfectly with the walls, styled in teak. Over time, the tonal changes that will arise in the FURUMI finish can be savoured alongside the corresponding changes in the wood featured in this interior space.


Click here to learn more about Bronze Finish Samples – FURUMI (sulfurized) finish
Let us show you another project, namely the library space of Taisho University's Building 8, which features wall panels fabricated by KIKUKAWA. These panels, comprising double-layered punched steel, are strikingly finished in a metallic gold powder paint coating. The lustre of the punched panels is enhanced by the use of light tones of the oak featured in the shelving, desks, and stair risers.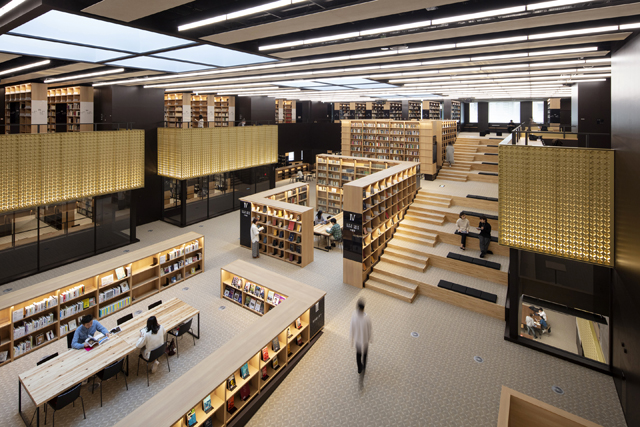 Next is the Akasaka Intercity AIR project, where we used a specific antique coating on the reception desk. This special-purpose coating, applied to a base material of steel, has a subdued, matte texture, which blends well with the wooden textures seen on the ceilings and walls. The same finish is used on the surrounding metal partitions. Thanks to a combination of the welding expertise of craftspeople and this special-purpose, antique-look coating technique, these design elements have been imbued with a character akin to antique handicrafts.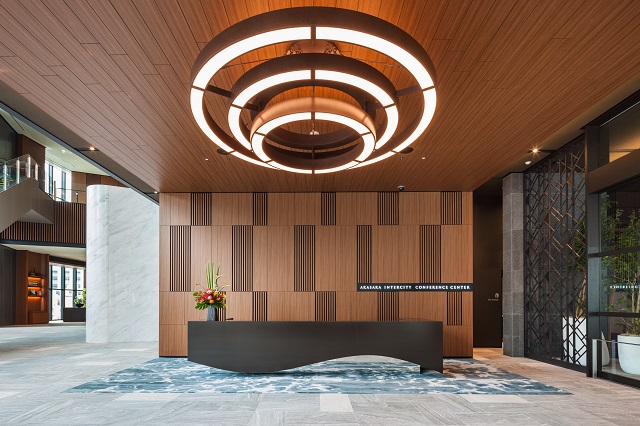 Click here to learn more about Steel Finish Samples – Antique Bronze Paint
In addition to the special finishes introduced above, KIKUKAWA offers an extensive range of standard finishes which can bring a touch of luxury and style to any wood-tone interior.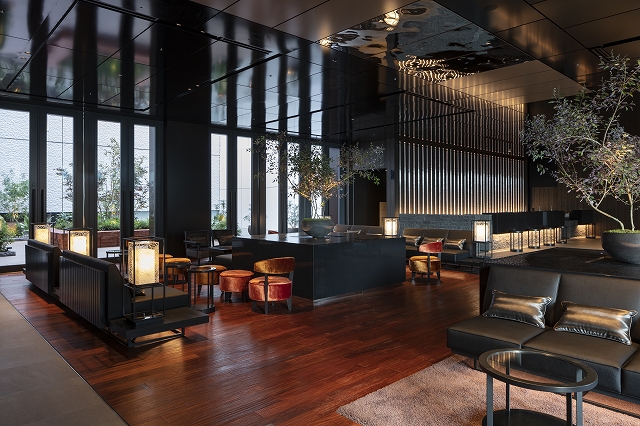 The ceiling panels installed in OVOL Nihonbashi Building feature a standard finish, in which an acrylic resin baked coating in black has been applied to a base material of aluminium. We were able to achieve a highly glossy coating, which allowed us to link the ceiling to the shine of the Mahogany-esque flooring material. This brings just the right amount of subtle lustre to impart a sense of luxury and of refinement to this interior space.
KIKUKAWA has a broad line-up of finishes in addition to those mentioned above. We are able to offer a seamless service in metal building materials, incorporating everything from fabrication to installation. Please free feel to contact us to discuss your requirements and ideas for both interior and exterior applications.
For further details on the projects introduced here, please see the following links:
Project Gallery: Cathay Pacific Lounge at Tokyo Haneda Airport
Project Gallery: Taisho University's Building 8
Project Gallery: Akasaka Intercity AIR