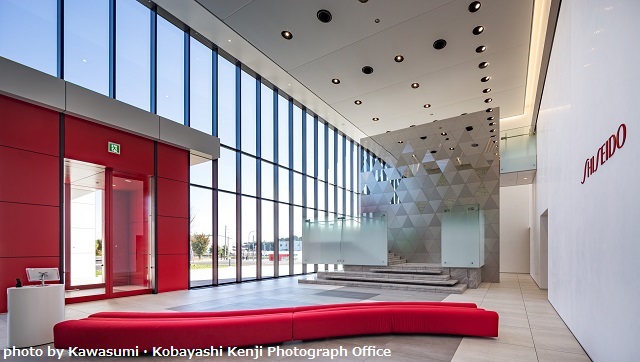 The entrance: the decorative stainless steel wall welcomes every visitor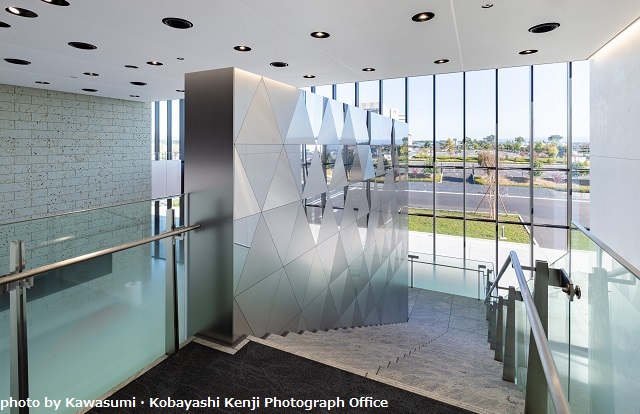 The vertical transition panels are finished with vibration (VIB or PHL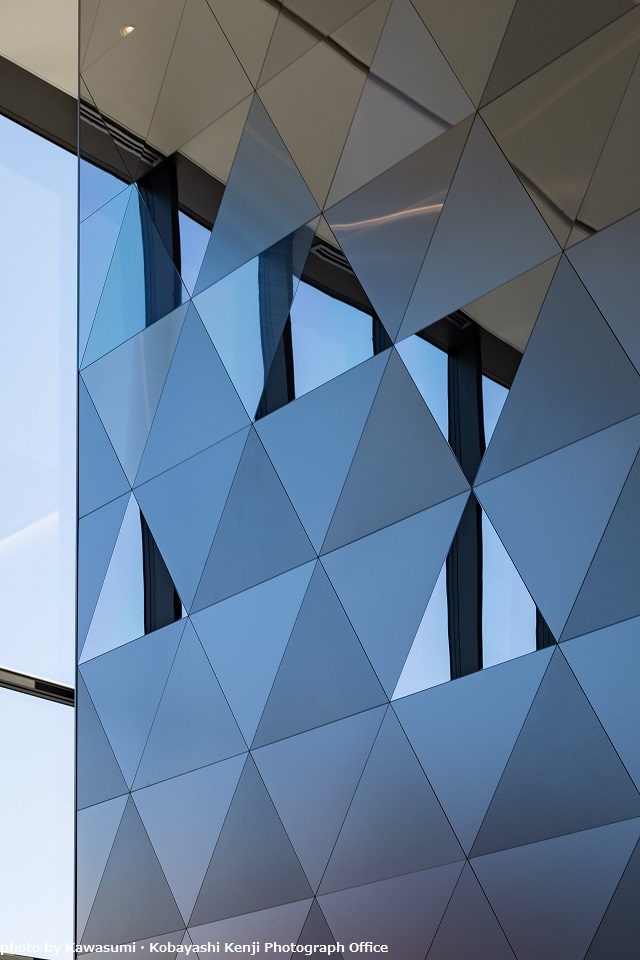 The 2mm joints are clean
■Re-imagining Smooth Skin Texture as Stainless Steel
Shiseido completed its new factory, the first in 36 years within Japan, intended as a manufacturing facility and a communication base. To decorate the entrance of this base, a wall adorned with various stainless-steel finishes was constructed. The design intent was to re-imagine glowing, flawless smooth textured skin with variously finished triangular stainless-steel panels.
As a production and communication base for Shiseido, its' brands, and the surrounding communities, the welcoming space of the factory was one of the key components within the project. Kikukawa and our panels were chosen to implement the iconic wall lined with over 500 panels.
■Over 10 Kinds of Stainless Steel Finishes
A wall adorned with a mixture of 10 different stainless-steel finishes, from mirror-polished (MF), two kinds of hairline finishes (HL), three kinds of vibration finish (VIB or PHL) and four kinds of Silky Blast.
Kikukawa provided over 10 kinds of stainless-steel finish samples, including those from Kikukawa's stainless steel samples book to custom finishes created by changing the depth and grind marks of these finishes upon request.
For areas within hands' reach, these stainless-steel finishes are coated with a layer of oleophobic coating that prevents fingerprint stains. Other panels are treated with passivation coating or silica coating as required.
Click here for more information on Kikukawa's 'Polished or Grinded Finish', such as mirror-polished (MF), hairline (HL), vibration (VIB or PHL)
Click here for more information on Kikukawa's 'Bead Blasting (Silky Blast)' Finish
Click here to view pictures of Kikukawa's Stainless Steel Finish Samples
■Six Triangular Panels Intersecting with 2mm Joints
This 90㎡ decorative wall had various design and quality requirements.
The wall consists of 500 equilateral triangular panels, with 660mm sides, fabricated from 3mm thick cut-edge detail stainless steel. Due to the thickness of the panel, quality concerns such as stud marks were addressed through quality-control tests and design meetings.
To ensure the invisibility of the fixing systems, Kikukawa adopted the backing panel system. Various design meetings, mock-ups, and installation tests were conducted to implement the 2mm intersecting joint – a challenging design that required precision from fabrication to installation.
While joints are typically used to adjust any gaps that occurred onsite, this was not a possibility for this project. This was especially true for corners with 6 triangular panels intersecting, as any gaps or imprecision in any of the installation would result in the disruption of the joints. To ensure the success of this project, the project team from project managers, detail designers, metalwork craftsmen, installation craftsmen came together to understand the mock-ups, address and improve the details to prevent any issue that may occur on-site.
■Craftsmanship and Precision to Implement the Client's Requests
Having diversity in finishes provided its own challenges during installation – such as ensuring the direction of hairline finishes, the differentiation of similar finishes such as those based on the depth of vibration [VIB or PHL]). Careful attention was paid to differentiate the panels for quality control and to reduce backtracking works.
During the mock-up stage, the decision to unitize the panels were made to ensure the installation precision of the joints. For efficiency, four to five panels were unitized and installation gauges were fabricated for installation quality control. To do so, the precision of each panel size and flatness of the panels were required after the decimal points – a feat overcome with Kikukawa's expertise and technology, and implemented with our craftsmen. In doing so, the installation quality and time were reduced.
Our assiduous work resulted in both in meeting the high standards of the project and earning a high level of satisfaction from our client.
Click the links below to learn more about Kikukawa's other Shiseido projects
Kikukawa's Project Gallery – SHISEIDO THE STORE
Metal Craft News – Mirror- Polished Stainless Steel Ribbon
Product
Material
Metal Finishes
or
Metalwork
Entrance
Decorative Wall
Stainless Steel
HL, Mirror Finish, PHL,
Silky Blast
Passivation Treatment
| | |
| --- | --- |
| Project | Shiseido Nasu Factory |
| Client | Shiseido Company, Limited |
| Architect | Obayashi Corporation |
| Contractor | Obayashi Corporation |
| Completion | 2019 |
| Location | Ohtawara City, Tochigi |